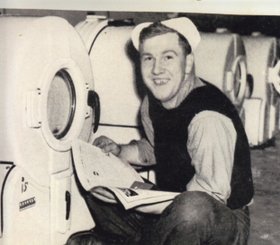 Benjamin Nels
unknown - December 14, 2013
Benjamin J. Nels – "BJ", 92, passed away on Saturday, Dec. 14, 2013. He was born in Crown Point, N.Y., moving to Liverpool in 1957.
He was a U.S. Coast Guard veteran of WW II and fought in the Pacific Theater earning 6 battle stars. In his early years he was a self-employed lumber jack and sawmill owner in the Adirondack Mountains. B.J. worked as a heavy equipment operator with the Operating Engineers. During his retirement years he sold firewood, built and sold picnic tables and wishing wells from his home on Buckley Road.
He is predeceased by his wife Dolores and six brothers and sisters. He is survived by three children, Lawrence (Cindy) Nels of Applo Beach, FL., JoAnn (John) Witz of North Syracuse, and James (Peggy) Nels of Baldwinsville, NY, a sister Anna Wojewodzic of Port Henry, NY, grandchildren, Brandon Nels, Justin Nels, Colin Nels, Jason Boland, Sarah Brandolino, Travis Nels, Craig Nels, Lauren Flood and several great-grandchildren. At the request of Ben, no calling hours will be held, a private memorial service to be held in Port Henry at a later date. To leave a message of sympathy, visit. Maurer Funeral Home Moyers Corners has arrangements.