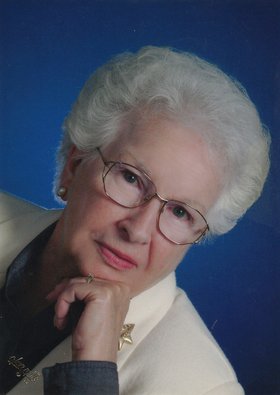 Alberta Hamlin
unknown - December 15, 2013
Alberta Hamlin, 91, passed away unexpectedly on Sunday, Dec. 15, 2013, at home. Alberta was born in Ellisburg, N.Y., to Rev. Albert and Lelah Lawrence. She graduated from Carthage High School, Watertown School of Commerce and New York State Town Clerk's School. During WWII she worked for the United States government at Pine Camp (Fort Drum) and Hancock Field, where she met and married Stanley J. Hamlin in 1947. While raising her children in Clay, she worked as town clerk of Clay for 27 years. She was a member of Trinity United Methodist Church, serving on many committees. She was most currently a member of the Mary Circle, and was treasurer of the memorial fund. Alberta loved her family and church. Her favorite place to be was on Lake Bonaparte with the wind blowing on her face or looking out the front windows of her camp as she called it her "bird house" at the lake. She will be dearly missed by her family and friends. Alberta was predeceased by her husband, Stanley J. Hamlin in 1992; brothers, Albert and Ernest Lawrence; and her sister, Grace Bishop.
Surviving to cherish her memory are her children, Stanley L. Hamlin; Bonnie (Jerry) Bergan; grandchildren, Bonnie Holmes Kirby (Rob), Stanley Troy Hamlin, Jeremy Bergan (Sara), Dana Hamlin Graff (Jeremy), Leah Bergan Stevens (Jay), Todd Kirnan (Vanessa), Donny Kirnan (Nicole); five great-grandchildren; her sister, Elizabeth Aboutok; sister-in-law, Rosalie Lawrence; many great nieces, nephews, and their families.
Funeral services: 10 a.m., Friday Dec. 20, in Trinity United Methodist Church, 8396 Morgan Rd. Clay with interment following in Pine Plains Cemetery Clay. Calling hours: 4 to 7 p.m. Thursday at the Maurer Funeral Home Moyers Corners 3541 State Route 31, Baldwinsville. Contributions in Alberta's memory may be made to Trinity United Methodist Church.