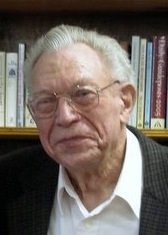 Wiley Bell
unknown - December 9, 2013
Wiley C. Bell, of Syracuse, passed away Monday morning, Dec. 9, 2013, at the age of 93 after a brief illness. He was born in New Brunswick, N.J. on Aug. 15, 1920, and was an Army veteran who served during WWII in India.
He worked as a machinist and later as an engineer in a variety of companies in the Northeast. These included New Process Gear, DieMolding, Coleco, and Syracuse Plastics. He served as a commissioner for the Throop Fire Department, was a ccertified Master Gardener, supported several local historical societies such as The Park Avery House in Syracuse and The Octagon House in Camillus and was a member of the Eastwood Baptist Church.
He was predeceased by his wife, Florence, and a grandson, Benjamin.
Wiley is survived by two sons, Paul (Bette) and Mark (Donna); three daughters, Cheryl Palmatier (Ed), Karen Procopio and Lisa A. Bell; 14 grandchildren and 15 great-grandchildren.
Memorial service: 11 a.m. on Saturday, Dec. 14, at the Eastwood Baptist Church (3212 James St., Syracuse). Friends may call during the hour before the service.
In lieu of flowers, contributions may be made to Wounded Warriors (WoundedWarriorProject.org) or your local food pantry.
For a guest book, please visit: scheppfamily.com.