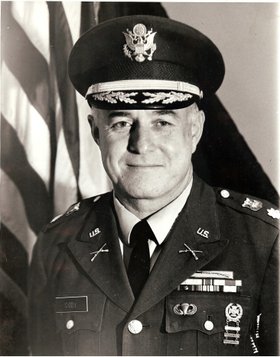 Brigadier General (Ret.) William Cody, Sr.
unknown - November 21, 2013
Brigadier General (Ret.) William Paul Cody, Sr., 81, of Dewitt, passed away Nov. 21, 2013, at home. Born in Syracuse, he graduated from East Syracuse High School where he was an Onondaga County football and track champion. He graduated from Bucknell University with a Bachelor of Science degree in 1955. He played on their undefeated football and track teams and was a member of the Sigma Chi Fraternity.
He began his military career U.S. Army in 1955 as second lieutenant of infantry. A year later he was reassigned as rifle platoon leader with the 11th Airborne Division in Germany and later promoted to first lieutenant. While in Europe, he played football and earned first team as halfback. He was also an assistant boxing coach for the division. Upon release from active duty, he was transferred to the New York Army National Guard with assignment to the 174th Armored Infantry Battalion, 27th Armored Division. Here, he worked his way up to the rank of colonel and then was transferred to the state headquarters staff, assuming the duties of Executive Assistant to the Chief of Staff to the Governor. While with the Department of Military Affairs, he was director of training and intelligence, chief of staff for the New York Army National Guard and the Division of Military and Naval Affairs. He was also the superintendent of the Empire State Military Academy, a Federal Brigadier General.
Bill's long military career culminated in his role as the adjutant general for the New York State Army National Guard.
In later years, he was self-employed as an independent manufacturer's representative. He was active as a member of Dewitt Rotary and the Knights of Columbus. He also volunteered for organizations such as the Veteran's Administration in Syracuse, Holy Cross Church in Dewitt, and a cook for Unity Kitchen.
He is survived by his wife of 55 years, the former Anne Marie Robidoux; one daughter, Kelly (Craig) Richardson of Derry, NH; three sons, Bill (Mary Anne) of Camillus, NY, Michael of Syracuse, Patrick of Rochester, NY, and Karen West Cody of Rochester, NY; one sister, Beverly Bertolo of Mattydale; 10 grandchildren, Will and Ned Cody, Michael Cody, Jr., Shane, Travis, Dylan and Kayla Cody, Coleman Concannon, Hunter and Zachary Richardson, and many nieces and nephews. Bill's final days were eased by the visits and kindness of many including dear friends Gary and Kathy MacLachlan.
Calling hours and Mass of Christian were held at Holy Cross Church. Burial with military honors was in St. Mary's Cemetery in Dewitt.
Contributions in lieu of flowers to Holy Cross Church. Arrangements by the B.L. Bush & Sons Funeral Home, 10 Genesee St., Camillus. Please sign the guestbook at blbush.com.