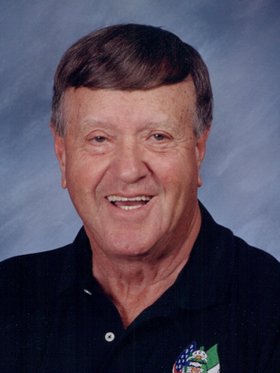 Walter Guthrie
unknown - November 21, 2013
Walter Charles Patrick Guthrie, 85, of Camillus, passed away Thursday, Nov. 21, 2013, at St. Joseph's Hospital Health Center. A lifetime resident of the Syracuse area, he was a 1947 graduate of Vocational High School and a Marine Corps veteran of WWII. He served three years in the 27th Division of the National Guard.
Walter retired after 20 years with the Teamsters Local Union 317. He was a communicant of St. Joseph's Church and member of the Ancient Order of Hibernians, Camillus Elks Lodge #2367 and Clan Guthrie USA. He was an avid golfer.
Walter was predeceased by four brothers.
Surviving are his wife of 30 years, the former Barbara "Bobbe" Eno; daughter, Kelly Guthrie of Cicero; sons, Mark (Cyndi) Fusco of Philadelphia, PA and Kevin and Kiernan Guthrie, both of Cicero; stepsons, Dr. Frank (Virginia) Hackl of Tulsa, OK and Dr. Ted (Annelise) Hackl of San Angelo, TX; stepdaughter, Cynthia (Jeremiah) Crean of Mahwah, NJ; brother, Donald Guthrie of Washington; nine grandchildren; two great-grandchildren; and several nieces and nephews.
Relatives and friends called Friday, November 29 from 4 to 7 p.m. at the Buranich Funeral Home, 5431 W. Genesee St., Camillus.
A funeral Mass was celebrated at 10 a.m. Saturday, Nov. 30, in St. Joseph's Church with Rev. John Ahern officiating. Burial was private. In lieu of flowers, contributions may be made in Walter's name to the Prostate Cancer Foundation, 1250 Fourth St., Santa Monica, CA 90401. Please share condolences at buranichfh.com.