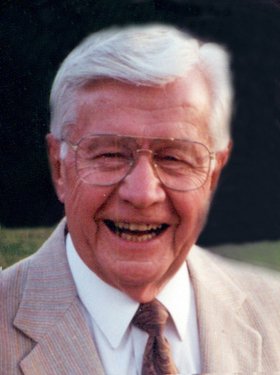 Robert F. Nolan
unknown - November 24, 2013
Robert F. Nolan, 89, of Camillus, passed away Sunday, Nov. 24, 2013, at St. Joseph's Hospital Health Center. A lifetime resident of the Syracuse area, he was a graduate of CBA and Niagara University. He was a Marine Corps veteran of WWII.
Robert retired with over 35 years as an accountant with L.B. Smith, Inc., John Deere and General Electric. A communicant St. Joseph's Church, he served as Eucharistic minister and was active with the Funeral Luncheon Guild. He was a member of the Camillus Elks Lodge 2367 and Town of Camillus Planning Board. He was an avid golfer and SU sports enthusiast.
Robert was predeceased by his brothers, Edward and William.
Surviving are his wife of 64 years, the former Dorothy Dwyer; daughter, Linda (Stanley) Parzych of Corning; sons, Richard (Linda) of Liverpool and Patrick (Annabelle) of Woodland Hills, CA; grandchildren, Meghan and Christopher Nolan, Andrew Parzych and Michael (Alisha) Parzych; great-grandson, Colton; and several nieces and nephews.
Relatives and friends called from 4 to 7 p.m. Friday, Nov. 29, at the Buranich Funeral Home, 5431 W. Genesee St., Camillus.
Rev. Peter Worn celebrated a Mass of Christian Burial on Saturday, November 30 at 8:30 a.m. in St. Joseph's Church. Robert was laid to rest in St. Mary's Cemetery, DeWitt.
In lieu of flowers, contributions may be made to St. Joseph's Church Food Pantry, 5600 W. Genesee St., Camillus, NY 13031. Please share condolences at buranichfh.com.