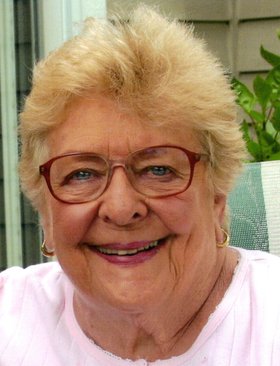 Patricia Beers- Burton
unknown - November 27, 2013
Patricia "Pat" Beers- Burton, 87, of Baldwinsville passed away peacefully in the presence of her family on Wednesday, Nov. 27, 2013, at St. Joseph's Hospital. She was born in Utica, N.Y., a daughter of the late Charles and Mabel (Bates) Williamson. Patricia lived most of her life in Marcy, N.Y., where she married and was widowed from two wonderful men, Robert Beers and William Burton. Patricia raised six children while employed for the State of New York's Department of Mental Health for over 30 years. After retiring from the State of New York, she worked as a rural letter carrier for the USPS. She also volunteered at St. Luke's Hospital in Utica, and for numerous soup kitchens. In 2005, she moved to Syracuse to be closer to her daughter and son. She is predeceased by her sister, Sally Jackson.
Patricia's funny and vivacious personality was evident to the end. She was an avid painter, gardener and bird watcher. All who knew her will remember her dedication to family and friends.
Surviving to cherish her memory are her children; Linda (Ken) Beers-Bradley of Denver, CO, Robert (Sharon) Beers of Jacksonville, FL, John (Celine) Beers of Peekskill, NY, Deborah (Giuliano) Mevoli of Baldwinsville, William (Cindy) Beers of Marcy, NY, Michael (Mary Jo) Beers of Jamesville, four grandchildren; Ryan and Sarah Eck and Catherine and Melanie Rose Beers, two great-grandchildren; Kaylee and Caiden. Also surviving are many nieces and nephews.
Calling hours: 3 to 5 p.m. Saturday, Dec. 28, at the Maurer Funeral Home Moyers Corners, 3541 Route 31, Baldwinsville, with a memorial service at 5 p.m. Immediately following the service is a celebration of Patricia's life at the Aspen House on Willett Parkway in Radisson.
In lieu of flowers, please consider donations in Patricia's memory to the Alpha-1 Foundation, Attn: Development Office, 2937 SW27 Avenue, Suite 302, Miami, FL 33133.
A special thanks to the staff at Park Terrace who cared greatly for Patricia in her recent years.