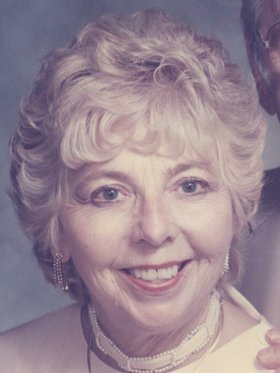 Lenore Brunet
unknown - December 3, 2013
Lenore H. Brunet passed away peacefully Dec. 3, 2013, at her daughter Sandra Pinckney's home in Jordan. She was born in Oshawa, Ontario Canada in 1920. She attended school in London Ontario and studied accounting.
She married her husband Arthur Brunet in 1941 and they were married 58 years. Arthur was a jet pilot in the Canadian Airforce for 30 years and they lived in many parts of Canada and the US. They retired in Syracuse in 1960.
In 1976 they moved to Pinellas Park, Florida where they made many friends and enjoyed life between their cottage in North Bay Ontario and their Florida residence. Lenore was an avid painter and belong to the Pinellas Art Society where she won several awards. She study floral design, was a talented seamstress, and made many beautiful things for her family and friends. People collected her hand painted Christmas cards which she sent out every year until just last year. She was a wonderful loving mother and grandmother and will be missed very much. She was predeceased in 1999 by her husband Arthur. Surviving are two daughters Sandra (John) Pinckney and Penny (Michael) Abulencia as well as three grandsons, Charles(Kristine) Pinckney, Bryan (Danielle) Pinckney and Michael (Lori) Abulencia, six great-grandchildren and the doggie Jake. There will be no calling hours.
Memorial service: 11 a.m. Dec. 7 at the Jordan United Methodist Church, 63 Elbridge St. Jordan. Donations may be made to either Loretto PACE CNY, 100 Malta Lane, North Syracuse, NY 13212 or JUMC Memorial Fund at 63 Elbridge St. Jordan, NY 13083. The Bush Funeral Home of Jordan has charge of arrangements.