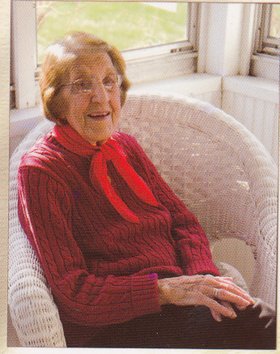 Clara Cannucciari
unknown - November 29, 2013
Clara Cannucciari, 98, of Skaneateles passed away at St. Joseph's Hospital on Friday, Nov. 29, 2013. She was born on Aug. 18, 1915 to Joseph and Josephine Bonfanti in Melrose Park, IL.
She met her husband, Dino Cannucciari, when he was touring with the Vatican Choir in Chicago in the 1940s. They were wed in Rome, Italy and were married happily for 43 years. In 1983 they moved to Skaneateles to be near their only child Carl Cannucciari, his wife Nancy, and their four children.
During the Great Depression, Clara left high school in order to go to work. Later in her life she touched many people with her stories of feeding her family during the Depression in her internet cooking series and book "Clara's Kitchen."
Clara was predeceased in death by her parents Joseph and Josephine Bonfanti, her brother Sam Bonfanti , her loving husband Dino Cannucciari, and her son Carl Cannucciari.
She is survived by her daughter-in-law Nancy Cannucciari; her four grandchildren: Therese (Patrick) Steinhoff, Christopher (Abby) Cannucciari, John-Paul (Kyoko) Cannucciari, and Mark Cannucciari; and five great grandchildren: Henry, Carl, and Joseph Steinhoff and Benjamin and Eliana Cannucciari. She also leaves behind nieces, nephews, cousins, and many dear friends and fans.
Funeral Mass was held on Monday, Dec. 2, at St. Mary's of the Lake Catholic Church in Skaneateles.
In lieu of flowers, the family asks that donations be made in Clara's name to Joseph's House, 127 Chapel Dr., Syracuse, NY 13219. To send condolences visit: robertdgrayfuneralhome.com.