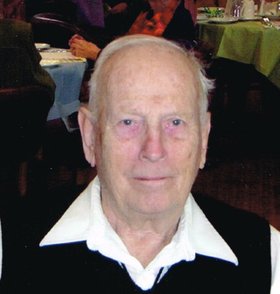 George Harrold
unknown - August 26, 2013
George Burton Harrold, 83, of Manlius, passed away at home on Monday, Aug. 26, 2013. Born on June 27, 1930, in Geneva, he earned a master's degree in electrical engineering and has worked for GE and as an Adjunct Professor at Syracuse University. Burt was an avid outdoorsman and ADK-46-er many times over, including climbing in the Alps. He enjoyed many hobbies including photography, boat building, sailing and a life-long love of music. He was predeceased by his first wife Lois Avery Harrold.
Survivors: His wife of 20 years, Dorothy Foster Harrold; a daughter Cynthia Harrold Heller; a son George Hilary Harrold; two brothers, Raymond Harrold and Leon Harrold; 11 grandchildren and several nieces, nephews and cousins.
A memorial service is being planned for Oct. 5.
Contributions: Manlius Senior Centre in gratitude to UGGH, Burt's Caregivers, 1 Arkie Albanese Avenue, Manlius, New York 13104 or Adirondack Mountain Club, 814 Goggins Road, Lake George, New York 12845. For a guest book, please visit: scheppfamily.com.