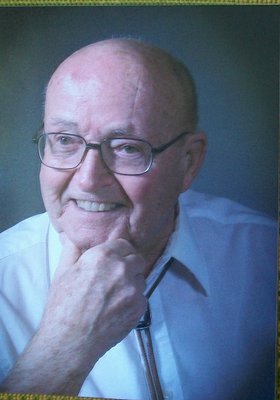 Roger Cross, Jr.
unknown - July 25, 2013
On July 25, 2013, Roger Cross, Jr passed away at Penney Farms Retirement Community in Florida. He was born January 17, 1926 in Fayetteville, NY. In 1944, he enlisted in the Naval Air Corp V-5 program. He was a Cornell U graduate and was employed at Gleason Works for 33 yrs.
Roger dedicated his life to West Henrietta Baptist Church, Habitat for Humanity and Penney Retirement Community.
He married Barbara Weinges; after her death, he married Arlene Harm. Roger was well-known and admired for his ingenuity, persistence, mechanical know-how, sense of humor, creativity and ability to tackle seemingly impossible tasks or problems. He loved to collect anything of potential use in his many projects. He will be remembered for the many "Roger stories" told by family and friends.
Roger's death was preceded by the deaths of his son and both wives. He is survived by his daughter, daughter-in-law, two grandchildren, a great-grandson and six stepchildren.
Two memorial services will be held at the West Henrietta Baptist Church on Oct.19 at noon and on Oct. 20 at 1 p.m. Donations in his honor may be made to Flower City Habitat for Humanity for the Roger Cross Memorial Fund, 755 Culver Road, Rochester, NY 14609.