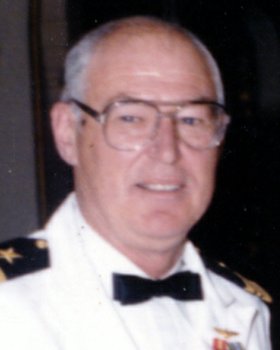 Lieutenant Commander Richard Jones
unknown - August 21, 2013
Lieutenant Commander Richard N. Jones, USN (Retired) 78, of Baldwinsville, passed away Wednesday, Aug. 21, 2013 at St. Josephs Hospital. He was born in Plainfield, NJ and attended Plainfield High School.
He joined the Naval Aviation Cadet Program in 1957 and entered the Naval Flight School program in Pensacola, FL soon thereafter. Based in Quonset Point, RI, he was deployed to the Caribbean during the Cuban Missle Crisis in October 1962. Later he was assigned to Air Anti Submarine Squadrons VS-39, VS-34, VS-28 and VS-42 flying the Grumman S-2E Tracker. He was an accomplished pilot with approximately 500 carrier take offs and landings on the USS Essex, USS Wasp and USS Intrepid. He served as the Catapult and Arresting Gear Officer for the USS Essex (CVS-9).
Later in his career, he served on the staff of the Navy Liaison Officer of the 21st NORAD Region at Hancock Field in Syracuse, NY until retirement in 1978. During his career, he qualified for the Meritorious Unit Commendation, National Defence Service Medal, Armed Forces Expeditionary Medal and two Air Force Outstanding Unit Awards. After retirement from the Navy, he pursued many varied activities and interests including positions a Consumer Energy Consultant, volunteer fireman and hardware store manager. Dick and his wife, Carol moved to Maine to pursue their passion for sailing. Later, they lived aboard a 44-foot trawler and cruised the Atlantic Seaboard and Caribbean for 5 years. In 2008, Dick and Carol decided to settle in Baldwinsville.
Dick's many hobbies included tennis, swimming, golf, model railroading, radio control models, boat building, sailing and enjoying his summers on the St. Lawrence River with his many friends. Dick was predeceased by his first wife, Barbara Bonnel Jones and his parents, Edwin and Marion Jones.
Surviving are his wife of 35 years, Carol Griffith Jones; sons, Gregory N. (Tracy) Jones of Newburyport, MA and Seth A. (Christine) Jones of Camden, NY; grandchildren, Tim, Jeff, Lindsay and Ryan; sister, Thelma Jones Casey of Iowa; and several nieces, nephews and cousins.
Services will be private. There will be no calling hours. Burial will be in Arlington National Cemetery. Falardeau Funeral Home, Baldwinsville has charge of arrangements.
Contributions may be made to: The Oncology Wing at St. Joseph's Hospital, Hemotology/Oncology Associates of CNY or the Baldwinsville Volunteer Ambulance Corp.