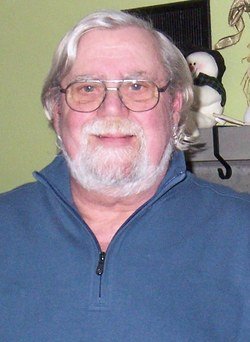 John H. Miller
unknown - August 20, 2013
John H. Miller, of Minoa, passed away Tuesday, Aug. 20 after a long battle with lung cancer. He and his wife Joan had retired to Minoa several years ago; the home of Rich and Jeri McKenna (daughter and son-in-law) and grandchildren Ainsley and Donovan. Prior to retirement John had worked for over 40 years as an IBEW journeyman wireman. He and Joan traveled extensively as full-time RV'ers as he worked at nuclear power plant outages across the U.S.
John was born and raised in Sycamore, IL; a small town 60 miles west of Chicago. He served in the Army during the Vietnam War as a cryptologist and was awarded a National Defense Service Medal. He loved his country and after retirement was active in politics as a member of the Town of Manlius Democratic Committee. He was also a member of the American Legion Post 787, Cicero, NY.
John loved football, particularly the Green Bay Packers. A special event for him was watching Green Bay play at Lambeau Field on the occasion of his 50th birthday. Other hobbies included travel and horse racing.
He was a loyal IBEW member with hundreds of loving IBEW brothers across the country. Their devotion to their brothers and country cannot be matched. He attended as many IBEW Reunions as possible, the last being the 45th Reunion in June in Columbus, OH. His daughter Susan and grandchildren Skylar and Ethan joined him there to celebrate his 65th birthday. His love for his brothers was exceeded only by his love for his family; Joan, wife of 29 years, daughters Jeri McKenna (Minoa) and Susan Evans (Tuscola, IL) son-in-laws Rich McKenna (Minoa) and Matt Evans (Tuscola), grandchildren Skylar, Ethan and Ivorie (Tuscola) and Ainsley and Donovan (Minoa).
Memorial service celebrating was held at the R.H. Schepp & Son Minoa Chapel, 6530 Schepps Corners Road with Calling hours are followed by the service. A reception at the Fayetteville United Methodist Church was held after the service.
In lieu of flowers donations can be made in John's name to the Zachary & Elizabeth Fisher House, 113 Holland Avenue, Albany, NY 12208 or to the 110BC Sick and Needy, care of David Porter, PO Box 674, Roslyn, WA 98941.