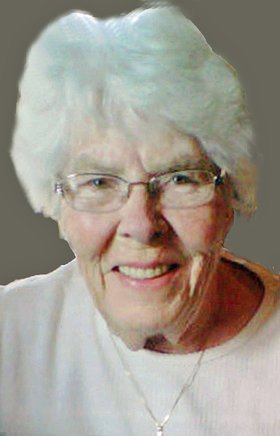 Margaret Brisson
unknown - August 15, 2013
Margaret Mary Kelly "Peg" Brisson, of Camillus, died peacefully at Loretto on Aug. 15, 2013, surrounded by family and friends. Peg Brisson was born in 1932 in Beverly, MA, the daughter of Irish Immigrants, Tom and Bridie Kelly. Peg always valued her Irish heritage. She moved to Camillus in 1956 with her husband and two young children. She lived with her ever-growing family in the same home for 54 years.
Peg worked for the town of Camillus in several departments, among them tax assessment and the water department, until retirement. She was proud of her role helping to establish a labor union for the clerk/secretarial employees of the Town, securing better wages, improved working conditions, and fair retirement plans. She especially treasured her role as Nana and cherished all of her grandchildren. She was also both friend and sponsor to a devoted group of women for 31 years.
Peg is survived by Will, her loving husband of 61 years; brother, Tom; her five children and their wonderful spouses: Louise (Arnold), Michelle (Amy), Tom (Bonnie), Kevin (Sheryl), and Ed (Doreen); grandchildren; great-grandchildren; and many nephews and nieces.
Relatives and friends called Monday from 4 to 7 p.m. at the Buranich Funeral Home, 5431 W. Genesee St., Camillus. A funeral Mass was celebrated at 10:30 a.m. Tuesday in St. Joseph's Church, 5600 W. Genesee St., Camillus with Rev. Peter Worn officiating. Peg was laid to rest in the Onondaga County Veterans Memorial Cemetery. Please view the Brisson Family Video Tribute and share condolences at buranichfh.com.