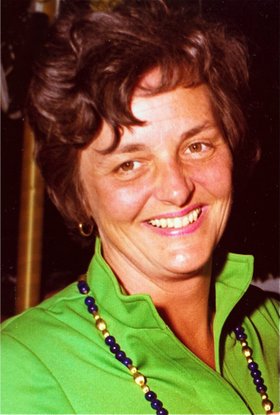 Mary Lou Kraetz
unknown - August 16, 2013
Mary Lou (Weil) Kraetz, of Skaneateles, beloved wife of Richard J. Kraetz Sr., died Friday, Aug. 16, 2013 after a brief illness. She was 84.
Born in Buffalo to Raymond Ph. Weil, Sr. and Emma Austin Weil., she is survived by her husband of 63 years, Richard J. Kraetz Sr. of Skaneateles and her children, Pamela Odlum (Michael) of Skaneateles and Glen Cove, Long Island, Richard J. Kraetz, Jr. (Shelly) of Skaneateles, Suzan Sletteland (Erik) of Bedminster, NJ, and William R. Kraetz (Chrissy) of Derby. Grandchildren are Katherine, Emily and Andrew Odlum, James, Taylor and Kelsey Kraetz, Sam, Peter, and Ben Sletteland and Hannah and Mae Kraetz. She is predeceased by her brother, Raymond Ph. Weil Jr. of Buffalo.
Mary Lou was a graduate of the Park School in Buffalo and Endicott College in Beverly, MA. She lived in Buffalo and Rose Hill, Fort Erie, Ontario, Canada for many years. She was an avid dog lover, gardener, reader and constant knitter. She started the Shop for Pappagallo in Buffalo on Delaware Avenue and ran it for 28 years. Mary Lou retired to Venice, Fla., with her husband and after 15 years moved to Skaneateles.
Mary Lou was a member of Westminster Presbyterian Church and the board of Children's Hospital in Buffalo. For many years she served as docent at Roswell Park Hospital in Buffalo and, along with her husband, tended the Memorial Garden at Roswell.
Services are private. Contributions may be made to Roswell Park Alliance Foundation Box 631 Buffalo, NY 14240. To send condolences visit: robertdgrayfuneralhome.com.