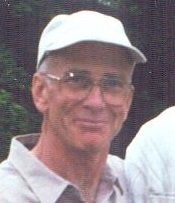 Kenneth Kammer
unknown - August 15, 2013
Kenneth Karol Kammer, 79, of Manlius, passed on to the Lord with family and friends nearby on Thursday, Aug. 15, 2013. He was born March 31, 1934, the son of John and Bertha Kammer. Kenneth was married to Phyllis Ann Piorkowski for just short of 52 years (September).
Kenneth is survived by his wife, Phyllis; two daughters, Sherry Kellish (Mark), Kathleen Russell (Scott); a son, Khristopher Kammer (Shannon Miller); seven grandchildren, Jacqueline Kellish, Max Kellish, Brody Kellish, Haley Russell, Tucker Russell, Taylor Russell, and Harrison Russell; siblings, John, Robert, and Susan; as well as several nieces, nephews and other relatives. Ken was predeceased by his son, Mark Kenneth, as well as his sister Evelyn and brothers Carl and James.
Ken was a master carpenter, retired from the Syracuse City School District. He was a superior athlete, having competed in speed-skating and bicycle racing, and enjoyed traveling, especially to Cape Cod and Myrtle Beach. He served in the US Army and Reserves, and was proud to guard the Tomb of the Unknown Soldier. He was an exceptional craftsman and artisan, and showed us all how to love unconditionally and without reserve.
In lieu of flowers, contributions may be made to Habitat for Humanity.