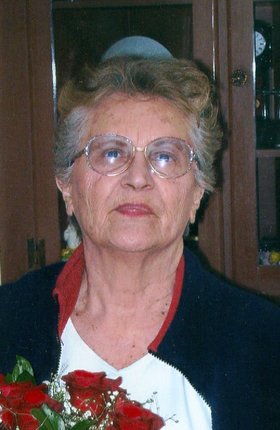 Margaret Durgey
unknown - July 31, 2013
Margaret Mary (Goode) Durgey, 80 of Fayetteville, on Wednesday, July 31, 2013, after a long illness. Margaret attended Powelson Business School and worked for Niagara Mohawk for 15 years. She was a parishioner at Holy Cross Church. Margaret liked to read the paper, shop and spend time with her grandchildren. She also enjoyed trips to the casino where she would play the penny slot machines. Margaret was predeceased by her parents John D. and Margaret Goode, as well as her brothers Denny, Bill and Jerry Goode, and sisters-in-law Theresa and Marilyn.
Survivors: her husband of 46 years Paul; her children, Deborah (Bob) Burchfield, Paul Jr. (Jennifer), Marianne (Scott) Spratt and Michael (Jamie); her brother Richard (Sue) Goode; sister-in-law Germaine and brother-in-law Charles (Kaye) Durgey. She is also survived by eight grandchildren, Caitlin, Hunter, Jacob, Scott, Julia, Drew, Jack and Lily as well as several nieces and nephews.
Services: 10 a.m. Monday, Aug. 5, at Holy Cross Church, 4112 East Genesee St., DeWitt. Burial will follow at St. Mary's Cemetery, DeWitt. Calling hours: 5 to 7 p.m. Sunday, Aug. 4, at Eaton-Tubbs Fayetteville Chapel, 7191 East Genesee St., Fayetteville.
The family would like to thank the staff at Iroquois Nursing Home and Empire Transport.