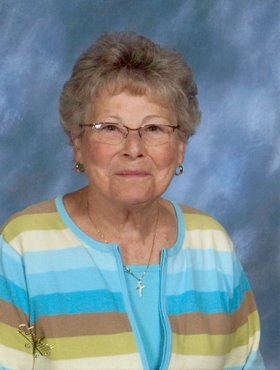 Dorothy A. Biven
unknown - August 6, 2013
Dorothy A. Biven, 84, of Minoa, passed away on Tuesday, Aug. 6, 2013, at James Square Health and Rehabilitation Centre. She was born in Fanwood, N.J., on Sept. 9, 1928, the daughter of the late John and Loretta Golden. She graduated from Scotch Plains High School in Scotch Plains, N.J.
Dorothy worked for Sears & Roebuck for over 30 years and at O'Hara & O'Connell Law Firm in Fayetteville for 16 years before retiring at the age of 79. She was a member of the United Church of Fayetteville. Dorothy enjoyed gardening and watching the birds from her back deck. She loved her family and enjoyed spending time with them.
She was predeceased by her son, William Biven in 1991, a grandson, Mark Shafer in 1994, and a brother, Charles Golden in 2013.
Dorothy is survived by her daughters, Pat (Bruce) Shafer of Green Bay, WI, Barb (Dennis) Yearous of Des Moines, IA, Janet Schaefer of East Syracuse, Joyce (Tom) Hicks of Cincinnati, OH, and Marilyn (Skip) Lewis of Erieville; a brother, John (Catherine) Golden of Greenbrook, NJ,; sisters, Loretta (Bob) Meyer of Bridgewater, NJ and Betty Brown of Somerville, NJ; 10 grandchildren; 14 great grandchildren; and several nieces and nephews.
Contributions may be made in her memory to the United Church of Fayetteville or to the American Cancer Society.