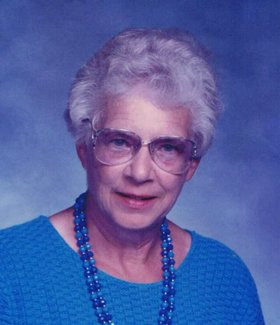 Marjorie B. Wilson
unknown - July 29, 2013
Marjorie B. Wilson, 92, of DeWitt, passed away July 29, 2013, at St. Joseph's Hospital. Marjorie is predeceased by her husband, George; her sister, Edith and brother, George. She is survived by her son, Charles and his wife, Patricia; granddaughter, Joanna Brown and her husband, Robert Anthony Brown; great-grandchildren, Abigale, Alexis, Amelia and Robert Jr.; her nieces, Carol and Cari Ellen and nephews, Walter and Paul; and sister-in-law, Lodi Burroughs.
Her mother, Emma Burroughs, was a school teacher and a staunch advocate of education. Mom learned to read when she was four years old and graduated from high school at 16. She then went to Baypath Business School where she completed the equivalent of a modern associate's degree in secretarial science and accounting. She was married in 1941 to George, who enlisted in the US Army following the attack on Pearl Harbor. As a military wife, she followed George around the country and served as a civilian secretary at many military installations, finally settling in CNY.
In 1948 she became a member of Professional Secretaries International (PSI). In 1970, while working at Agway, she earned the highest ranking in her profession as a Certified Professional Secretary (CPS). Known as "Miss Agway", she went on to become a ranking officer in CPS and was recognized as New York State's Secretary of the Year.
Upon retirement in 1985, Marge participated in numerous Elder-Hostel programs, traveled the world, and played bridge whenever she could! She also became an avid golfer and in the late eighties, made two holes in one at Wa-Noa Golf Course during the same year. She was also an active participant in the Minoa United Methodist Church and frequently hosted Bible studies at her DeWitt home.
Family and friends may call from 4:00 to 7:00 pm Wednesday at the R.H. Schepp & Son Minoa Chapel, 6530 Schepps Corners Rd. (corner of Kirkville Rd.), Minoa. The funeral will be 10:00 am Thursday at the funeral home. Burial will follow in White Chapel Memory Gardens in DeWitt. In lieu of flowers, donations may be made to the Alzheimer's Association, alz.org. For a guest book, visit: scheppfamily.com. Arrangements by R.H. Schepp & Son Minoa Chapel of Schepp Family Funeral Homes.