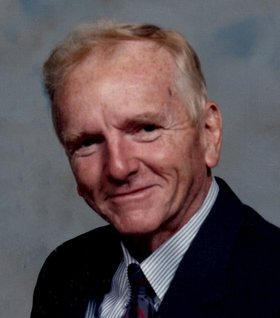 Frederick Fais
unknown - July 22, 2013
Frederick William Fais, 88, of New Woodstock, passed away at his home on July 22, 2013, with his wife of 63 years and daughters by his side.
He was born on July 26, 1924, to Nina Green and Oscar Biddle Fais in Spencer, Iowa, in "the best state in the land," as he always claimed. He served in the United States Navy, in the Pacific Theater of World War II, from 1943 until 1946, and graduated from Cornell College, Iowa, in 1948. While studying at Columbia University, New York, for his master's degree in American literature, he met his future wife, Marilyn Jean Chrisman whom he married on Sept. 2, 1950. Professionally, he was an elementary school teacher whose sometimes unorthodox approach to education inspired the love and respect of his students. But his true interests lay in woodworking and stained glass. He built everything from houses out of recycled barn timbers long before that was the fashion, to stately corner cupboards, to finely crafted violins, violas and a harp. His daughter Mary Heather has played one of his violins and viola in her time with the Syracuse Symphony, and still plays his instruments in her performances. His stained glass windows grace churches in Painesville, Ohio; Corning, New York; and Cazenovia; as well as the New Woodstock Free Library. His stunning stained glass Holocaust memorial window is installed at the North Carolina Center for the Advancement of Teaching, Cullowhee, North Carolina.
William was also an adventurer, who built his own canoes to follow the Lewis and Clark journey down the Missouri River with his young family. Having spotted a tiny island in the South Pacific also named "Fais," he took two trips there, flying from Japan to Guam, to Yap and finally to Fais. He was an avid naturalist and reader, whose curiosity, knowledge, and sense of humor opened up the world to his daughters and his granddaughters. He worked in the Salvation Army soup kitchen and was a life-long contributor to animal welfare organizations. He was raised in the Congregational United Church of Christ and was most recently a member of the Cazenovia Village Baptist Church.
William leaves behind a wife who loved him unflinchingly, Marilyn Jean Chrisman Fais; three daughters: Jennifer Green Fais (Noel Sylvester), Laurel Catherine Fais (Eric Vatikiotis-Bateson) and Mary Heather Fais (Charles Shatzkin); five granddaughters: Caitlin Vatikiotis-Bateson (Michael Harrell), Amelia Fais Harnas, Malia Vatikiotis-Bateson (Matthew Gauthier), Adriana Fais Kramer (Holger Kramer), and Indiana Vatikiotis-Bateson; and two great-grandchildren, Akina Gauthier and Axton Harrell. He was pre-deceased by his brother Oswill.
Memorial service: 7 p.m. Aug. 4 at the Cazenovia Village Baptist Church, 7 Seminary St., Cazenovia. To send the family an online condolence, please visit taitfuneralhome.com.
Donations may be made to an organization that was close to William's soft heart for animals: Wanderers' Rest Humane Association, 7138 Sutherland Dr., Canastota, NY, 13032.