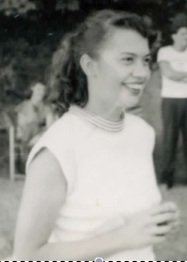 Patricia Selner Hughes
November 13, 1930 - April 4, 2013
Patricia Selner Hughes of Skaneateles, died peacefully on April 4, 2013 at University Hospital in Syracuse. A private memorial service is planned to take place at Skaneateles Lakeview Cemetery Chapel, 11 a.m. on Saturday, July 13 for friends and family.
Pat was born Nov. 18, 1930, in Syracuse to Lester and Lillian Selner. She graduated from Nottingham High School in 1948 whereupon she studied Fine Arts at Syracuse University. In 1955, Patricia Selner married a childhood friend, James Dana Hughes. Over the years, Pat and Jim remodeled their farmhouse on Cherry Valley Turnpike together, and enjoyed summers at the Hughes family camp on Skaneateles Lake while bringing up their four children.
Pat was a member of both the Skaneateles and Marcellus bridge groups where she made many priceless friendships over the years. Pat loved to relax on the beach of Skaneateles Lake and could often be found searching for lucky stones with holes in them. She also loved family game nights that went well into early mornings during the summer months.
Her interests included a voracious love of reading, collecting antiques and watching old movies.
She was preceded in death by her husband James D. Hughes.
Pat Hughes is survived by her sisters, Kay Price of the Thousand Islands; Sally T. Selner of Carmel, Ca.; and Charlene Grismore of Liverpool; as well as her children Michael D. Hughes of Little York; Thomas L. Hughes of Skaneateles; Catharine Taylor of Cazenovia; and Sharon Hoffman of San Diego, Ca.; and her nine grandchildren, Sarah and Pierce Smith; Alexandra and Nathan Hughes; Laurel, Nick, Wyatt, Cole and Luke Hoffman.
Contributions may be made to the Saint Francis House, 108 Michaels Ave, Syracuse, NY, 13208, or your favorite charity.