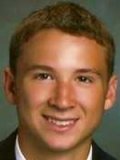 Brendan Englert
unknown - April 25, 2013
Brendan John Englert, 20, of Fayetteville passed away April 25, 2013, with his family, friends and teammates by his side. Brendan was a beloved son, cherished brother, treasured cousin, loyal teammate and dear friend to many.
A graduate of Fayetteville-Manlius High School, Brendan played soccer, golf and lacrosse. At FM he received All CNY lacrosse honors and was named to both golf and lacrosse all league teams. He was a faithful member of St. Ann's Youth Group, refereed youth soccer and coached lacrosse at various camps during his summers.
Brendan was a junior mechanical engineering major at Catholic University of America in Washington, D.C., and a member of the varsity lacrosse team. Brendan was recognized for his outstanding contribution to his team, being named ECAC Division III 2011 Rookie of the Year, Landmark Conference 2011 Rookie of the Year, and Landmark's All Conference Team both years. Upon completion of his third season, he is Catholic University's second all-time scorer in school history.
Brendan is predeceased by his grandfather, Thomas H. Munro, his uncle, Mark Englert, and his aunt, Nancy Chase. Left to cherish his memory are his parents, John and Kathy Englert; sisters, Kaitlin, Quinn and Colleen; grandparents, Janet Munro and John and Betty Englert; aunts and uncles, Mary and Chris Anklin, Susan and Keefe Gorman, Edward Chase, Janet and Tim Lovell, Scott and Sue Englert; and cousins, Meaghan and Christopher Anklin, Jack, Scotty and Kevin Chase, Kealy, Sophie, Makena and Sawyer Gorman and David, Michael and Christopher Englert.
Brendan was an avid snowboarder. He loved to wakeboard, cliff dive and back flip off anything he could find. He loved spending time with his family, whether it was a holiday celebration, a cruise to the Caribbean, a ski trip to Mount Tremblant, or a tour of China with his grandmother and cousin. Brendan had a true love of life and lived it to the fullest. We will miss his beautiful spirit, sense of adventure, contagious smile, famous warm hugs and the twinkle in his eye. Brendan's generous heart will live on through his multiple organ donations.
Calling hours: 4 to 8 p.m. on Thursday, May 2, at St. Ann's Church, 104 Academy St., Manlius. Mass of Christian burial: 11 a.m. on Friday, April 3, at St. Ann's Church, with burial following at Fayetteville Cemetery.
Contributions: in Brendan's memory may be made to St. Ann's Youth Group, 104 Academy St., Manlius, NY 13104 or Catholic University Men's Lacrosse, Brendan Englert Fund, c/o Catholic university, 620 Michigan Ave NE, Washington, DC 20064.