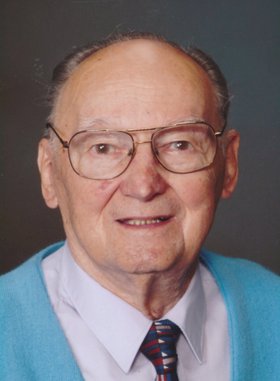 Joseph P. Mocyk
unknown - April 22, 2013
Joseph P. Mocyk, 91, of Baldwinsville, passed away Monday, April 22, 2013, at University Hospital with his loving family by his side. He was born in Marcellus and attended Marcellus High School. He was an Army Air Force veteran of WWII and achieved the rank of Staff Sgt. for part of his tour, he was stationed at Pine Castle Air Base, Orlando, FL. He retired in 1989 as Engine Shop Foreman for Centro after 42 years. He enjoyed hunting and fishing and was a lifetime member of the Baldwinsville Rod & Gun Club where he also served as past President. He was a life member of the NRA and a delegate to the Onondaga County Federation of Sportsman. Joseph was predeceased by his parents, Frank and Agnes Mocyk and sister Bernice Wheatley.
Survivors: his loving wife of 68 years, the former Winifred L. Jewell; daughter, Wendy D. (Billy) Ray of Kennesaw, GA; sons, Joseph J. (Midge) of Baldwinsville, Jeffrey M. (Mari) of Onondaga Hill, Gregory (Joan) of Baldwinsville and Kevin S. (Lauria) of Warners; sister, Catherine D'Angelo of Marcellus; 16 grandchildren; 13 great grandchildren; and several nieces, nephews and cousins.
Calling hours: 2-5 p.m. Sunday, April 28, at Falardeau Funeral Home, 93 Downer St., Baldwinsville. Mass of Christian Burial: 10 a.m. Monday, April 29, at St. Mary's Church, Baldwinsville. Burial will be in St. Francis Xavier Cemetery, Marcellus. Contributions: Baldwinsville Rod and Gun Club, 1400 Kingdom Road, Baldwinsville, NY 13027 or St. Mary's Church, 47 Syracuse St., Baldwinsville 13027.