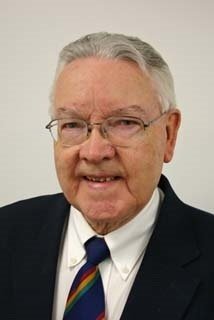 Ian D. H. Cuthill
unknown - April 21, 2013
Ian D. H. Cuthill, 83, of Manlius, died peacefully on Sunday, April 21, 2013, after a short illness. He was born on Feb. 24, 1930, in Dundee, Scotland, the only son of Thomas B. and Mary T. Cuthill. He will be remembered as a dedicated husband, father and grandfather with a strong work ethic and a love for golf and soccer.
Ian was also a man with a great passion for learning. He achieved the equivalent of a PhD in Chemistry from the Royal Institute of Chemistry (London, UK), an MBA from the University of Chicago, and a PhD in Marketing from Syracuse University. He emigrated to the United States in 1960, and worked for a number of food companies in research and development management, culminating in his role as Vice President of R&D for Borden Inc. in Syracuse, NY from 1977 to 1986. He then founded a successful consulting firm and became US Editor for the trade magazine International Food Marketing & Technology. In 2001, he fulfilled a lifelong dream to teach, and served as a Visiting Professor at the undergraduate and graduate level at Syracuse University, SUNY Binghamton, and SUNY Oswego before finally retiring at the age of 80.
He is survived by his wife, Jean M. Cuthill, and four children: Kathryn (Jeff) Doughty of Glenelg, MD; Andrew (Jennifer) Cuthill of Palo Alto, CA; Elizabeth (Matt) Eberhart of Wilton, CT; and Robert (Laura) Cuthill of Brooklyn, NY. He is also survived by nine grandchildren: Hannah, Brian, Michael, and Kevin Doughty; Lindsay and Kyle Cuthill; Luke and Nicholas Eberhart; and Carson Cuthill. All have been inspired by his achievements and entertained by his dry sense of humor.
Memorial services: April 24. His ashes will be interred at a family plot in Dundee, Scotland in accordance with his wishes. In lieu of flowers, the family asks that contributions be made to the Manlius Public Library, 1 Elmbrook Dr., Manlius, NY 13104 or Hospice of Central York, 990 Seventh North Street, Liverpool, NY 13088.