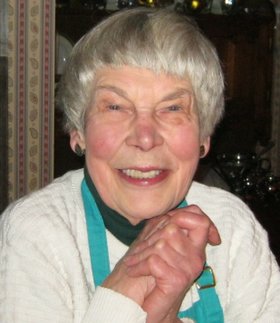 Elsa Tegner
unknown - April 10, 2013
Elsa Tegner, of Cazenovia, passed away Wednesday, April 10, 2013, at Crouse Hospital with family by her side.
Born in New York City on Oct. 2, 1933, Elsa attended the Music Art High School and, pursuing a career in art the Parson School of Design. She was a member of the Art Students League and active for many years in the Vasa Order of America, a Swedish Fraternal Organization.
When her husband Roy retired from Grumman Aerospace, they moved to Cazenovia from Suffolk County, Long Island.
Elsa was a past member of the Cazenovia Garden Club, CazCares and the Cazenovia Watercolor Society. An accomplished artist, she had paintings in several private collections.
Favorite pastimes were playing pinochle with family and playing Bridge with the Cazenovia Bridge Group. Elsa was predeceased by her husband of 50 years, Nils "Roy" Tegner.
Surviving are her daughters, Lisa (Terry) Cochrane of Cazenovia and Karen (Bob) Berrian of Glenville, N.Y.; her grandchildren, Ryan and Kyle Cochrane and Peter (Christina) and Erik (Lauren) Berrian; her great-grandchild, Jack Cochrane and her best friend since childhood, Lore Ehrmann
Funeral services were held on Saturday, April 13, at St. Peter's Episcopal Church, 10 Mill Street in Cazenovia. In lieu of flowers, donations may be made to Wanderers Rest Humane Association, PO Box 535, Canastota, NY 13032. To send an online condolence, please visit taitfuneralhome.com.