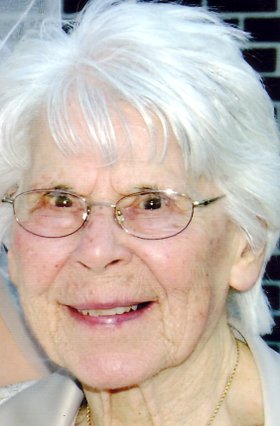 Margaret E. Martin
Skaneateles
unknown - April 16, 2013
Margaret E. Martin, 93, formally of Lewistown, PA passed away peacefully at home on April 18, 2013 with members of her family by her side. Peg had resided at the Thomson home in Skaneateles, New York for more than three years, enjoying the loving care of her granddaughter Maggie Thomson and her family.
Peg was born on July 4, 1919 in Eldorado, Pennsylvania to Verna and Clarence Gearhart. She was married for 49 years to the late Roland A. Martin who passed away on December 11, 1989. She was preceded in death by four brothers and two sisters. Surviving are her four children; Jill (George)Newton of Skaneateles, New York, George(Vicki) Martin of Boca Raton, Florida, Dan Martin of Camp Hill, Pennsylvania, and Maryanne Martin of Gaithersburg, Maryland. Peg was blessed with seven grandchildren, Maggie Thomson, Andrew Newton, Brett and Jonathon Martin, Adrian Stouffer, Joseph Martin and Liam Esparraguera, and six great-grandchildren.

Peg had a marvelous sense of humor. Everyone loved her easy laughter and the way she made everyone around her feel important. She was a outdoors woman at heart, a master camper. She was passionate about sports and was an excellent archer and loved swimming and diving. She volunteered for many organizations extensively and continued until she was 90 years old.
She was a long time and active member of the Grace Evangelical United Methodist Church in Lewistown. Services will be private. In lieu of flowers, contributions can be made to Hospice of the Finger Lakes, 1130 Corporate Drive, Auburn, NY 13021 or SAVES, 77 Fennell Street, Skaneateles, NY 13152. To send condolences visit: robertdgrayfuneralhome.com