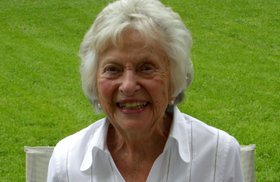 Irene Graham Evans
Cazenovia
unknown - April 15, 2013
Mrs. Irene G. Evans, of Cazenovia , passed away on April 15, at Community Memorial Hospital, Hamilton, after a short illness. She was born in Beaver Dams, Schuyler County New York on May 16, 1921. She was the youngest daughter of Anna Love Graham and Hiram Hovey Graham.
Mrs. Evans attended a two- room school in Beaver Dams. She graduated from Northside High School in Corning in 1938 and from Elmira College in 1942. During summers she worked at the Glens Springs Hotel in Watkins Glen. She continued her education and received her master's degree at Case Western Reserve University Mandel School of Social Science in Cleveland, Ohio. Her clinical interest and academic focus was with children and families. She stayed on one year after finishing her degree in Cleveland to work and study at the Youth Bureau, a private agency helping teen-agers and their families, before returning to New York state. She continued to work with children and family private agencies in Syracuse and Elmira for many years. Later she worked as a medical social worker at Syracuse Memorial Hospital and then at Sunnyview Rehabilitation Hospital in Schenectady.
Mrs. Evans returned to social work in 1968 after raising her three children. The Herkimer County Board of Cooperative Educational Services (BOCES) employed her as the first trained social worker to work in rural Herkimer County, where she worked for seventeen years. It was the beginning of the development of classes for students with special needs where she played an intergal part in enhancing the development of effective classes, and support of teachers and outreach to parents. Mrs. Evans combined the structured program with visits to parent's homes and developed a monthly meeting for parents that were supportive and educational. She reached out to other services offered by Herkimer County to help whenever possible and beneficial. This was well received by the County and school administration, highlighting the importance of school social work services and the benefit to children in regular classes. By the time of her retirement seven new clinical social workers had been added to BOCES. The role of school social work had been well defined in Herkimer County as a result of the passion for her work.
After retirement, Mrs. Evans continued to work as a consultant at Catholic Charities. She performed home studies for various adoption agencies placing international children in the United States. She continued to do volunteer work for the American Red Cross, both as a family social worker and as mental health worker and traveled to disasters in the United States. She was a voice for licensure of the social work profession. Irene has kept active over the years with family, community involvement, genealogy, and personal travel. She continued her long time membership at the United Methodist Church in Cazenovia and with the Fayetteville Owahgena Chapter of the National Society of Daughters of the American Revolution.
Mrs. Evans was predeceased by her parents and husband, Willis C. Evans from whom she was divorced but remained friends, her sisters Mary Marks of Cazenovia, Hebe Patterson of Herkimer and Joseph Graham of Florida. She is survived by two daughters; Sarah K. Henderson, Great Falls VA, L Jane Evans, Boston MA and her son Mark G. Evans and his wife Teresa Evans of Cazenovia, as well as six grandchildren: Julia Henderson, Thomas Henderson, Christopher Henderson, Andrew Henderson, Caitlin Evans, Kiley Evans and great-granddaughter, Adleigh Henderson.
In her memory, contributions can be made to the Mandel School of Applied Social Science, Case Western University, 10900 Euclid Avenue, Cleveland Ohio 44106-716A, in memory of Irene G. Evans, Class of 1946. Ayer & Zimmer Funeral Home, Cazenovia is in charge of arrangements.