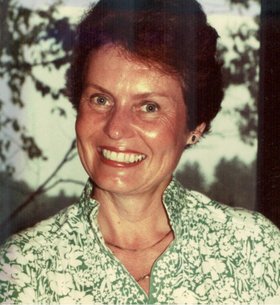 Elizabeth C. Gerle
Tully
unknown - April 17, 2013
Elizabeth C. Gerle, of Tully, passed away on Wednesday. She was born on November 6, 1933 in Brooklyn, the oldest daughter of Edward and Clara Christiansen. After attending Oyster Bay High School, she received her degree in dental hygiene at SUNY Farmingdale. Later in life, she went on to complete her Bachelor's degree in political science at Syracuse University. She worked as a dental hygienist in Rochester and married Richard Gerle, MD in 1954. Eventually, the family settled in Syracuse in 1965 and later in Tully on her beloved farm with her devoted companion Gary Orenstein.
Elizabeth was active in the community and served many years as a member and president of the Crouse Irving Memorial Hospital Auxiliary and was vice-chairman of the New York State Hospital Auxiliary. Elizabeth enjoyed sports of all kinds. She was an avid golfer and enjoyed a round of golf with her many friends in the Syracuse area and at her summer camp in the Adirondacks for the annual Cobblestone Open. Along with golfing, she also enjoyed playing tennis, skiing with her Tuesday group and sailing with the St. Regis Yacht Club on Upper St. Regis Lake, NY. One of her greatest joys was to entertain her family and many friends at her farm and at Cobblestone. She was the consummate hostess. She enjoyed traveling throughout North America, Europe and Norway. She was a member of DeWitt Community Church. Above all else, Elizabeth was a loving mother to her children and their spouses, and grandchildren. Her favorite times were spent with her family and enjoying their lives. She was loved and respected by everyone who knew her.
She is survived by her loving companion of 27 years, Gary Orenstein; her three children and their spouses and five grandchildren, Gretchen (John) King and granddaughters, Lauren and Katherine of Shelburne, VT and grandson Eric, currently in Mozambique serving in the Peace Corps, Kirsten (John) Hanrahan and grandsons Colin and Luke of Alpharetta, GA, and Wendy (Chris) Donner of Vergennes, VT. She is also survived by her brother Alan Christiansen and sister Dory Silfen along with her beloved nieces and nephews.
For a guest book, please visit online:
www. SCHEPPFAMILY.com
In lieu of flowers, contributions may be made to the charity of your choice.