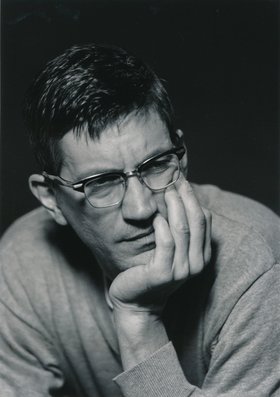 Bruce Stark
Syracuse
unknown - April 16, 2013
Bruce Stark
April 16, 2013
Bruce Stark, 56, of Syracuse, died on Tuesday. Born in Elmira, NY, where he attended elementary school before moving to DeWitt and then Fayetteville with his parents and younger brother Kevin. After graduating from Fayetteville High School, Bruce attended college earning a bachelor's degree in English Literature from McGill University in Montreal. As a young and adventurous man, Bruce lived and worked in various cities including Burlington, VT, Tokyo, and New York before returning to Syracuse. Over the years Bruce worked at various jobs and is most remembered from his early days as a waiter and bartender at Pastabilities and Club Zodiac, and as Director at 12Rooms Art/Jazz Gallery. For the past decade, Bruce has been teaching English as a second language at Syracuse University and at 3iMobile. Bruce treasured his family and many close friends above all else. His sense of humor, considerate nature and unquenchable thirst for knowledge made him the most loving and interesting friend and companion. Bruce's interests were unique, eclectic and passionate. He loved books, music, art, architecture, politics, food, sports and all things interesting and beautiful. Bruce saw treasure and amazement all around him and his exuberance for life was delightfully contagious. Bruce was a member of the Kafka book group and Creamery gang.
Bruce is loved and remembered by his wife and partner of 21 years, Kelly Wypych; his parents, Bruce and Lois Stark; his brother and sister-in-law Kevin and Claudia Stark; his nephew Kevin Stark, Jr.; and many close friends.
For a guest book, please visit online:
www. SCHEPPFAMILY.com
Contributions may be made to Wacheva Cultural Arts, One Village Dance Centre, 117 Harvard Place, Syracuse, NY 13210.