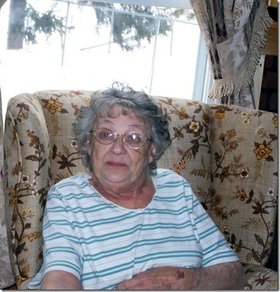 Patricia Ann Daggett Becker
Cazenovia
unknown - April 5, 2013
Patricia Ann Daggett Becker, of Cazenovia, passed on to be with our Lord and Savior Jesus Christ on April 5. Patricia was the daughter of the late Robert and Emma Daggett. She follows her beloved husband Donald C. Becker, who passed in 2004. She also follows her brothers Chuck, George and Gene, who were also from Cazenovia. Patricia and Donald were married for 50 years and celebrated with all their family and friends before his death. It was a joy-filled occasion. She is survived by their seven children, Erma Marie Tackman (Robert) of Elbridge, George Robert (Donna) of Elbridge, Kevin Cramer (Sue) of Springfield, MA, Cindy Ann Miner of Auburn, Ronald James (Kelly) of Manlius, Gerry Lee Hanna (Dave) of Liverpool and Donald Cramer Jr. (Lisa) of Brewerton. They have 21 grandchildren and 39 great grandchildren. After her husband's passing she moved back to Cazenovia, her birth place, and is also survived by her brother William Daggett (Jean), and constant companion sister-in-law Martha Daggett, all of Cazenovia. She also had several nieces and nephews. Her love of ice cream, music, bird watching, latch hook rugs and her dog made her a very special woman. Patricia enjoyed collecting owl figurines. She was mother to many, grandmother to many more, wife but to one, and loved by all. She loved her country, her freedom, and will be missed by everyone whose life she touched.
Services were held Thursday, April 18 at Tait Funeral Home, Inc., 2333 Fenner Road, Cazenovia Burial was in Evergreen Cemetery.
Please send any donations to Caz Cares, CAVAC, or Cazenovia Fire Department in Patricia's name.
To send the family an online condolence, please visit taitfuneralhome.com.