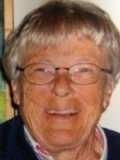 Sally Attridge
Fayetteville
unknown - April 13, 2013
Sally Attridge, 81, of Fayetteville died on Saturday, April 13, after a battle with cancer. Born in Auburn and raised in Skaneateles, Sally was the daughter of Ruth and Austin Penchoen. She was passionate about all animals, but horses in particular; she was an avid horsewoman and showed hunters and jumpers in the region in her youth. She attended Skaneateles Junior Senior High School until 1947 and graduated from the Putney School in Putney, Vt., in 1949. She graduated from Wells College in 1953 with a bachelor's degree in English.
During her lifetime, Sally taught at Pebble Hill School, taught skiing at Toggenburg, directed the Campus Volunteer Center at Syracuse University, sold real estate and wrote a history column for Eagle Newspapers. Sally also founded Anorexia Bulima Support in 1981, the first group to address eating disorders in Central New York. She was honored as a Post Standard Woman of Achievement for Volunteer Service in 1984.
For 25 years, she was active with the Mental Health Association of Onondaga County with whom Anorexia Bulimia Support merged in 1993, serving on its board for several terms. She was the recipient of the President's Award twice, in 1998 and 2007. She was a member of the Junior League of Syracuse, serving as president in 1970.
Sally was an avid skier and tennis player into her sixties and remained an avid golfer,gardener and bridge player into late life. She enjoyed travel and exploring new places, theater events and concerts.
Sally's husband, Bob, passed away the same day she did.
Sally is survived by her children, Bob Jr. of Syracuse, Laura of Kirkville, Tom and his wife Susan of Hamburg, N.Y. and Soozie and her husband Bill Cappelletti of DeWitt; her grandchildren, Meghan and Sarah Attridge and Matt, Riley, Katie and Josie Cappelletti; and a brother, Tom Penchoen and his wife Marie Louise of Hood River, Oregon.
Calling hours will be held from 4 to 7 p.m. Wednesday, April 17, at St. David's Church, 14 Jamar Drive, Dewitt. Burial services will be private.
Donations in Sally's memory may be made to SUNY Upstate Cancer Center, 750 East Adams St., Syracuse, NY 13210.

Services for Sally Attridge
April 17, 2013

Viewing: 4 p.m. to 7 p.m.