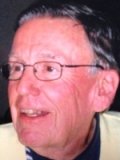 Robert H Attridge
Fayetteville
unknown - April 13, 2013
Robert H. Attridge, 83, of Fayetteville, passed away Saturday, April 13, from the effects of Parkinson's Disease. Born in Syracuse, he was the son of Walter and Arlene Attridge. He graduated from Nottingham High School in 1947 and Syracuse University in 1951 with a degree in economics.
Bob bought the Wadsworth and Olmstead insurance agency in 1953 and operated it for 56 years. He was very involved with the Huntington Family Center for more than 50 years, serving on the board and as its president in 1988. An award recognizing volunteer contributions to the agency was named in his honor and is given annually.
Bob was also a founding member of the Crouse Foundation. He was active in DeWitt Little League in the 1960s, acting as a coach for many years and serving for a time as its president.
An avid golfer, Bob was a member of the Onondaga Golf and Country Club for over 50 years and the Gyro Club. Bob enjoyed playing golf, fishing on Lake Ontario and watching Syracuse University sports teams. His favorite activity, however, was watching his grandchildren play sports and perform on the stage.
Bob's wife Sally also passed away on April 13. He is survived by his children, Bob Jr. of Syracuse, Laura of Kirkville, Tom and his wife Susan of Hamburg, N.Y., and Soozie and her husband Bill Cappelletti of DeWitt; his grandchildren, Meghan and Sarah Attridge and Matt, Riley, Katie and Josie Cappelletti. He was predeceased by his parents; a brother Walter, and a sister Joanne.
Calling hours will be held at from 4 to 7 p.m. Wednesday, April 17, at St. David's Church, 14 Jamar Drive, DeWitt.
Burial services will be private.
Contributions in Bob's name may be made to the Huntington Family Center, 405 Gifford St. Syracuse, NY 13204.

Services for Robert H Attridge
April 17, 2013

Viewing: 4 p.m. to 7 p.m.