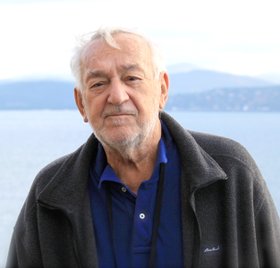 Dr. Frank Joseph Piper
Syracuse
unknown - April 6, 2013
Dr. Frank Joseph Piper, 84, of Syracuse and Delray Beach FL, much beloved family member, friend and doctor, died suddenly on Saturday. Born and raised in Utica, he was the second of four children of Anthony Piper and Sophia Jerzak Piper. Frank graduated from Syracuse University in 1951 before joining the Army. From 1954 to 1958 he attended New York Medical College at Flower Fifth Avenue Hospital where he met his wife, Teletta Anne Daly, who was a nursing student from Glen Cove, Long Island. Frank started his professional career in medicine with an internship at St Joseph's Hospital in Syracuse, followed by eight years of general practice in Camillus with Drs. Palmer and Bluto. After a residency in ophthalmology at Albany Medical Center, he practiced his specialty in central New York for 28 years, first in downtown Syracuse and then at Community General Hospital. Through the years Dr. Piper was active with both county and state medical societies, becoming president of the New York State Ophthalmological Society in 1980-81 and president of the Onondaga County Medical Society in 1986-87. Frank was a member of the Board of Governors of the American Academy of Ophthalmology. In addition to being president of the State Ophthalmology Society, he was editor of the society's newsletter, a delegate to the House of Delegates of the Medical Society of the State of New York and was chief of the Ophthalmology Section of Community General Hospital. Frank thrived at being a doctor, caring for and helping others was his natural calling; his kindness, compassion and humor touched all those around him; he retired from private practice in 1997. Outside his professional life, Frank enjoyed the out of doors and was an avid sailor, he spent time on Lake Ontario for many years and enjoyed sailing in the Virgin Islands with his best friends. He never lost his hunger for learning, reading was a passion, as was traveling in Italy with family and studying the Italian Renaissance.
Frank is survived by his wife Teletta, his children Dr. John F. Piper of Syracuse, Dr. Beth Anne Piper of NYC and Melissa Anne (Mark) Powless, a granddaughter Sophia Piper Powless, his sister Doris Anne Piper of Vernon Center, his niece and nephew Joanna Piper Young and Jason Piper, and four family dogs, Jake, Xena, Pipi and Ranger. While Frank will be thoroughly missed by all, his influence and memory will continue to positively impact our lives for many years to come.
Calling hours: 5 to 8 p.m. Friday, April 12, at B.L. Bush & Sons Funeral Home, 10 Genesee (Main) St., Camillus. A funeral Mass was celebrated at 10 a.m. Saturday, April 13 in St. Joseph's Church.
In lieu of flowers, donations can be made online at orbis.org or ORBIS International 520 8th Ave., 11th Floor, NY, NY 10018.
Please sign the guestbook at BLBUSH.com.

Services for Dr. Frank Joseph Piper
April 12, 2013

Viewing: 4 p.m. to 7 p.m.


April 13, 2013