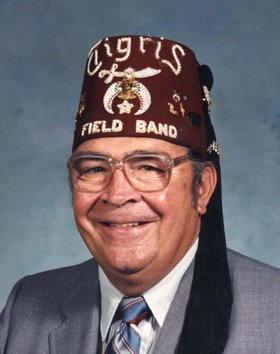 James W. Kline
unknown - March 29, 2013
James "Boopa" W. Kline, 90, life resident of Lyncourt, died Friday, March 29, 2013, at the Veteran Affairs Medical Center. Jim was a 1941 graduate of North High and an Army veteran who served in WWII in the European Theatre. Following the war, he returned to work for NY Central as a brakeman and later, a lumber salesman for Chapman Lumber Company for 25 years. Jim also worked as the building inspector for the Town of Salina and then retired from the Onondaga County Sheriff's Dept. Jim was a Free and Accepted Mason and a member of the Salt Springs Lodge #520, the Scottish Rite and the Tigris Shrine Field Band, the past president and longtime member of the Lyncourt Fire Dept., the past president of the Lyncourt School Board, a member of the Mattydale VFW Post #3146, a member of the Onondaga Hill Masonic Club and a member of the Little Turtles of Syracuse. He attended St. Stephen's Lutheran Church. He devoted his life to loving his family and helping those in need.
He was predeceased by his wife of 53 years, Marian Russell in 1995, his daughters; Judy Whitford in 2000 and Marguerite Mazzye in 2011, a brother William G. Kline and a nephew William F. Kline both in 2012.
Surviving are his two sons: James (Pam) Kline of Hastings, and Peter (Sue) Kline of Lyncourt; 12 grandchildren; and 15 great grandchildren a niece Jeanine Goodwin and two great nephews.
Contributions in Jim's memory may be made to the transportation fund of the Shriner's Hospitals for Children, 2900 Rocky Point Drive, Tampa FL 33607.
Calling hours: 4 to 7 p.m. Tuesday, April 2, at Krueger Funeral Home, 2619 Brewerton Road, Mattydale. Services are Wednesday, April 3, at a time TBA at the funeral home followed by burial with full military honors in Veteran's Memorial Cemetery, Syracuse. The family would like to thank staff and friends at West Side Manor, and the staff at the VA Medical Center for their compassion, respect and excellent medical care. For more information, photos and to sign the guest book, please visit kruegerfh.com.