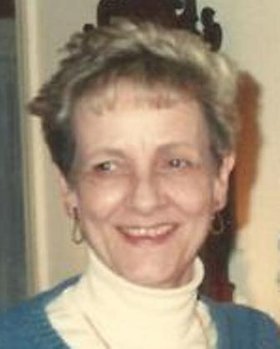 Suzanne Savage
unknown - September 17, 2012
Suzanne McCormick Savage, 87, of Providence, RI, died on Sept. 17, 2012, from complications of a stroke and Alzheimer's. She resided for many years in her home on Wynridge Road in Fayetteville. Suzanne was born in Chicago, IL on July 6, 1925, to her parents Esther Burdett "Mimi" McCormick and John Joseph McCormick. Suzanne graduated from Nottingham High School and attended Syracuse University as a Fine Arts major. Suzanne was a devoted wife, mother and stepmother and an active member of her community. She was a member of St. Alban's Episcopal Church in Syracuse, the Social Arts Club of Syracuse, a volunteer at Memorial Hospital and with Camp Fire Girls. Suzanne's greatest joys, aside from family and friends, were jazz, fine arts and her many pets over the years.
Suzanne was predeceased by her parents, her second husband, James K. Savage, Jr. and her former husband, William John "Jack" Schlacter, Jr., as well her siblings, Peggy McCormick Knapp, John Burdett "Bud" McCormick and Robert Breese "RB" McCormick.
Suzanne is survived by her beloved children, Mark John Schlacter of Dobbs Ferry, NY, Hollis Schlacter Lowe of North Haven, CT, Tracey Schlacter Baumann of Elberta, AL, Nancy Burdett Schlacter of Roslindale, MA, Christopher Schlacter and his wife, Diane Feldmann Schlacter of Pawtucket, RI; and her cherished niece, Diane Knapp Kennedy of Hampton, NH; and dear stepchildren, Catherine Savage Kohut of Victoria, BC, Canada, David Savage of Horseheads, NY, James Savage of Franklin, TN, Michael Savage of Bernardsville, NJ, Peter Savage of Port St. Lucie, FL and Mary Savage of Calgary, AB, Canada. She is also survived by her beloved sister, Mary Lou McCormick Kelly of Hendersonville, NC; her dear grandchildren, Cameron Henley Lowe of Avon, CO, Marcus William Lowe of North Haven, CT and Rebecca Burdett Schlacter of Dobbs Ferry, NY; and many nieces, nephews, grandnieces, grandnephews and step-grandchildren.
The family would like to extend their sincere thanks to the staff of the Bethany Home in Providence, RI and of the Odyssey House Hospice for the care and comfort they gave to Suzanne.
Calling hours: 6 to 9 p.m. Friday, Sept. 28 at the Eaton-Tubbs Fayetteville Chapel, 7191 E. Genesee St., Fayetteville. Funeral service: 11 a.m. Saturday, Sept. 29 at St. Alban's Episcopal Church, 1308 Meadowbrook Dr., Syracuse, followed by burial of her remains at the Fayetteville Cemetery, South Manlius St., Fayetteville. A private family gathering will follow the burial. For directions, florists, or a guestbook, please visit scheppfamily.com. In lieu of flowers, contributions may be made to the Alzheimer's Association, via their website alz.org, through a tribute link to Suzanne McCormick Savage. Arrangements by Eaton-Tubbs Fayetteville Chapel of Schepp Family Funeral Homes.