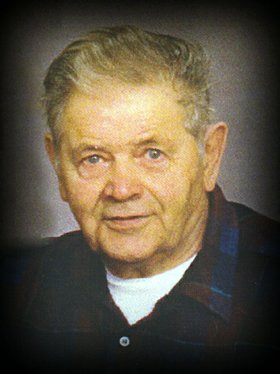 Chester Kotyra
unknown - September 14, 2012
Chester "Chet" Kotyra, 85, of Solvay, passed away very peacefully at Kindred Hospital Clear Lake, Webster, Texas on Friday, Sept. 14, 2012, surrounded by his loving family. Born on Tuesday, May 31, 1927, he was the son of Joseph Kotyra and Carrie Pajak Kotyra. Chet had recently moved to Houston, Texas with his wife, Valerie from Solvay to be near his children and grandchildren.
Chet served in the Army during WWII as an investigator with the 970th Counter Intelligence Corps. He was foreman at Canetta's Collision and later owned and operated Chet Kotyra Autobody & Repair Service. He worked in public transportation and drove school buses for the Solvay School District for 24 years.
Chet's passion was horses. An avid horseman, he owned, nurtured, bred, and trained standardbreds for many years. He was a member of the U.S. Trotting Association. He was a coordinator for many years in the Midtown and Fairmount Congregations of Jehovah's Witnesses, in Syracuse.
Chet served at many conventions, overseeing the Attendant Depts., and gave many discourses on the convention programs. His hope for the future was what defined him. He looked forward to the "REAL Life", in a restored Paradise. He awaits the Resurrection so lovingly promised by our Creator, Jehovah, ruled by His son, Jesus Christ. John 3:16; Revelation 21:3,4.
Chet was predeceased by his daughter, Rebecca L. Caraway; parents, Joseph and Carrie (Pajak) Kotyra; and brothers, Walter, Joseph, John, and Stephen Kotyra.
Surviving are his wife of nearly 30 years, Valerie (Bissell) Kotyra of Houston, Texas; daughter and son-in-law, Christy and Travis Sykes of League City, Texas; son, Joseph Kotyra of Houston, Texas; precious granddaughters, Payton and Addison of League City, Texas; brother, Daniel Kotyra of Syracuse; sister-in-law, Clara Kotyra of Syracuse; as well as many nieces and nephews.
Services were private. A Celebration of Life was held for Chet at the home of his beloved daughter, Christy, "Skippy", attended by family and close friends. Deer Park Funeral Directors, 336 E. San Augustine, Deer Park, Texas 77536 were in charge of arrangements. A memorial service in Syracuse will be held at a later date. Please share condolences at buranichfuneralhome.com.