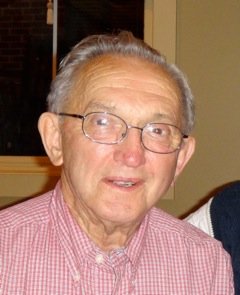 Charles H.S. Pace
unknown - September 12, 2012
Charles H.S. Pace, 82, of Cazenovia passed away on Wednesday, Sept. 12, 2012, after a brief illness at St. Joseph's Hospital.
Born in Wilkes-Barre, Penn. to Lawrence and Margaret Pace, he graduated from Meyers High School, Class of 1948 and SUNY Farmingdale with an AAS Degree in Ornamental Horticulture in 1952. Charlie enjoyed fishing, hunting, vacationing at Raquette Lake in the Adirondacks, tending to his gardens, family and friends.
Directly from college he worked at Cazenovia Greenhouses for 16 years before purchasing and running the business for another 29 years.
Charlie was actively involved in the community serving as mayor, fire chief and chairman of the Madison County Sewer Board. He was a founding member of the Rescue Squad and CAVAC, Deacon of the Cazenovia Village Baptist Church and Village Trustee.
He was a member of the Masonic Lodge #616 F.&A.M., Civic Club along with serving as an Arson Investigator and on the election and census boards.
Charlie was pre-deceased by his wife Barbara with whom he shared 59 years of marriage, his sister Evelyn Love, and brother Lawrence.
He is survived by his son Charles (Mary Lou) of Cazenovia; daughters, Donna (William) Hall of Henniker, NH and Joanne (Scot) Smith of Alburtis, PA; two siblings, Jerald (Hilda) of Hoschton, GA and Joan Hawk of Alpharetta, GA; grandchildren, Christopher (Tara) Pace of Altus, OK, Daniel (Juli) Pace of East Syracuse, Jason Hall of Henniker, NH and Kaitlin Hall of Seattle, WA; and several nieces and nephews.
Funeral Service were held at the Cazenovia Village Baptist Church, 7 Seminary St, Cazenovia at 11 a.m. on Thursday Sept. 27. Calling hours were held from 4 to 7 p.m. on Wednesday, Sept. 26 at Tait Funeral Home, 2333 Fenner Rd., Cazenovia.
In lieu of flowers contributions may be made to Cazenovia Fire Department, Albany St., Cazenovia, NY 13035, Cazenovia Village Baptist Church, Seminary St., Cazenovia, NY 13035 or CAVAC, Box 56, Cazenovia, NY 13035.
Visit taitfuneralhome.com to leave the family online condolences.