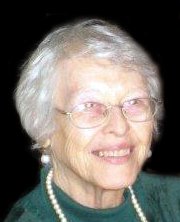 Mildred Goodsell
unknown - September 17, 2012
Mildred T. "Millie" Goodsell, 82, of Syracuse, passed away Monday, Sept. 17, 2012, at St. Joseph's Hospital Health Center. Born in Seneca Falls on Monday, February, 24 1930, she was the daughter of Harold B. Travis and Ruth Semple Travis. She was a lifetime resident of the Syracuse area.
Millie was a graduate of Onondaga Valley Academy and member of the Beta Sigma Phi sorority. She was a communicant of St. Joseph's Church. She enjoyed reading, traveling and spending time with her family.
Mildred was predeceased by her husband, Edward Joseph Goodsell in 1988; and brother, Donald B. Travis in 2012.
Surviving are her daughters and sons-in-law, Mary Lou Tiszler of East Greenbush, Barbara and Raymond Krause of Red Creek and Joanne and Stephen Pooler of Camillus; son and daughter-in-law, Edward and Lisa of Camillus; grandchildren, Brian (Michelle), Jason, Athena and Jaclyn Krause, Stephanie, Joseph and Stephen Pooler, and Aidan and Lilly Goodsell; and several nieces and nephews.
Relatives and friends called from 4 to 7 p.m. Wednesday, Sept. 19 at the Buranich Funeral Home, 5431 W. Genesee St., Camillus.
Services were at 10 a.m. Thursday, Sept. 20 at the funeral home and 10:30 a.m. in St. Joseph's Church where a funeral Mass was celebrated with Rev. Peter Worn officiating. Mildred was laid to rest in Onondaga Valley Cemetery. In lieu of flowers, contributions may be made to Oswego Industries, Inc., 7 Morrill Place, Fulton, NY 13069. Please view the Goodsell Family Video Tribute and share condolences at buranichfuneralhome.com.