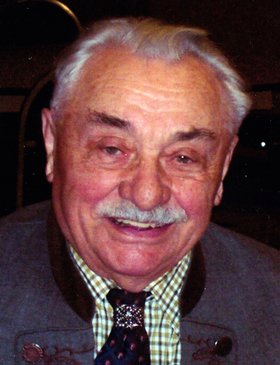 Rudolf Stecher
unknown - September 20, 2012
Rudolf Stecher, 89, of Warners passed away at home Thursday, Sept. 20, 2012 with his loving family at his side. He was born in Schnepfenbach, Germany and came to the U.S. in 1951 with his wife Emma. Rudy retired from Anheuser-Busch in 1988 as a maintenance supervisor. He became a Mason in 1980 and received his dedicated service award in 2012. He was a Tigris Shriner for 8 years, having received his Jester pin after five years. He was currently serving as president, treasurer and secretary of Arab Patrol. He was a member of the Hoboken FC 1912 Soccer Club for over 50 years, a member of the German American Society and an avid golfer and bowler. He was predeceased by his wife of 61 years, Emma in 2010.
Survivors: Two daughters, Diane (David) Horning of Batavia and Jeanne Waldron of Baldwinsville; his sister-in-law, Johanna Anthony of Ft. Covington, NY; six grandchildren, Nicole (Jim) Puskas, Danielle, Erick and Ericka Horning, Alyssa and Breanna Case; two great-grandchildren, Nicholas James and Mason William Puskas.
Calling hours 4-7 p.m. Monday, Sept. 24, at Falardeau Funeral Home, 93 Downer St., Baldwinsville, followed by a Masonic Service at 7 p.m. Contributions: Hospice of CNY, 990 7th N. Street, Liverpool, NY 13088-6148.