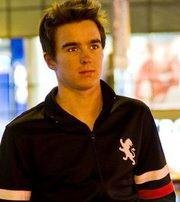 Mitchell Murphy
unknown - September 13, 2012
Mitchell Murphy, a lifelong resident of Cazenovia, passed away unexpectedly on Thursday, Sept. 13, 2012. He was twenty years old. Born in Greenwich, CT, Mitch graduated from Manlius Pebble Hill School and attended New York University. His chosen field of study— political science– supported his passion for philosophy, international affairs and global justice and sustainability. He aspired to be a professor of humanities.
Mitch had many interests including acting, music, sports and intellectual debate. As a member of Syracuse Children's Theatre, Mitchell played the title lead as The Wiz. He was active in the Model UN club, earning many top delegate awards at MPH and while at NYU, Mitch was selected to the travel delegation– a rare honor for a freshman. He was proud of his election to NYU's secret Eucleian Society. His sports interests included football and lacrosse.
Mitch was a true gentleman with a beautiful mind that shed light on all who knew him.
He is survived by his father, Michael Murphy of Riverside, CT. and his mother and stepfather, De Ann and Jay Steinhorst, of Cazenovia; a sister Summer Steinhorst of Cazenovia; his paternal grandmother, Helen Murphy of Riverside, CT, and maternal grandparents, Jim and Elaine Quigley of Evansville IN, and Al and Bonnie Steinhorst of Cazenovia; aunts and uncles, Jeanette (Robert) Rees, Laureen (Christopher) Kraft, James Quigley, James Murphy, Sue Murphy, Tom Murphy and Jennifer (Danny) Hunt; and many cousins. He was predeceased by his grandfather Theodore Murphy.
Funeral services: 9 a.m. Saturday, Sept. 22, at St. James Church, 6 Green St., Cazenovia NY 13035, followed by a gathering. Burial will be private for the family. There are no calling hours.
For directions, or a guestbook, please visit scheppfamily .com. In lieu of flowers, a charitable "tribute gift" can be made in Mitchell's name to Oxfam America (oxfamamerica.org) to aid in creating lasting solutions to poverty, hunger and injustice worldwide. Newell-Fay Manlius Chapel has charge of arrangements.