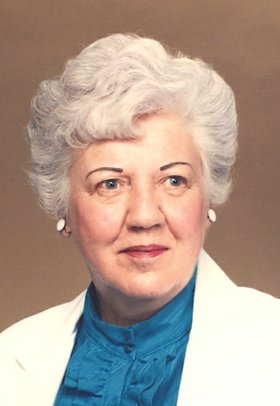 Arlene R. Cyphers
unknown - September 17, 2012
Arlene R. Cyphers, 95, of Auburn, formerly of Syracuse, passed away Monday, Sept. 17, 2012 at The Centers at St. Camillus. She was born on Sunday, Oct. 15, 1916, and was the daughter of John Martlew Barrette and Mary Agnes Murray Barrette. She was a lifetime resident of the Syracuse/Auburn area and retired from Van Duyn Home & Hospital as head seamstress.
Arlene was a communicant of St. Alphonsus Church in Auburn and while living in Syracuse, attended Our Lady of Lourdes. She served as Eucharistic minister and was a member of the Altar and Rosary Society and Mercy Rehab Auxiliary. She loved sewing and also enjoyed knitting, playing cards and spending time with her family.
Arlene was predeceased by her husband, Lynn R. Cyphers in 1979; brother, Jack Barrette; and sisters, June Schlegel and Dorothy Rusinko.
Surviving are her daughter and son-in-law, Marilynn and Dave Ellison of Syracuse; son and daughter-in-law, Richard and Sue of Skaneateles; sister, Gladys Driscoll of Auburn; brother, Paul Barrette of Syracuse; eight grandchildren; 14 great-grandchildren; and many nieces, nephews.
There were no calling hours. Graveside services were private in Onondaga Valley Cemetery. Arrangements were provided by the Buranich Funeral Home, Camillus. In lieu of flowers, contributions may be made in Arlene's memory to the Spiritual Renewal Center, 1118 Court St., Suite B, Syracuse, NY 13208. Please share condolences at buranichfuneralhome.com.