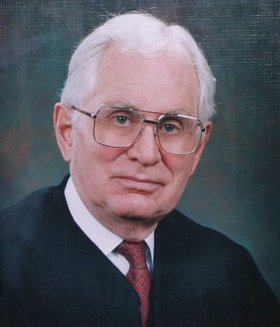 Hon. Albert E. Tait, Jr
unknown - September 11, 2012
Hon. Albert E. Tait, Jr., 86, of Cazenovia, died Tuesday, Sept. 11, 2012, at his home. He was born in Bronxville, N.Y. He was an Army Air Corp Veteran of WWII and a graduate of the New York University College of Law. Judge Tait was a former partner in Hopkins & Tait, Esq.; he was police justice for the village of Cazenovia from 1961-1965; town justice for Cazenovia from 1962-1969; Madison County Delegate to the Sixth Judicial District Republican Convention from 1963-1967; former town attorney for the town of Fenner; former school attorney for the Cazenovia Central School District; served as a County Court Judge, Surrogate and Family Court Judge for Madison County from 1970 until 1982. He was elected to the Sixth District of the New York State Supreme Court in 1982 retiring in 1997.
During his career, he presided over County Court and Supreme Court in Suffolk, Nassau and Westchester counties. He was a former member and past president of the Madison County Magistrates Association, former member of the New York State Magistrates Association, New York State Bar Association, Central New York Technical Advisory on Crime, former trustee for the Cazenovia Public Library, former director of the Cazenovia Youth Hockey Assoc., former trustee for Cazenovia Pop Warner, honorary member and former counsel for the Cazenovia Fire Department, former member of the Cazenovia Village Republican Committee, Welfare Secretary of the Salvation Army Extension Service, former member of the Cazenovia Village Baptist Church, former member of the American Judicature Society, former member of the Cazenovia Lions Club, former member of the town of Cazenovia Zoning Board of Appeals.
He was a member of the Cazenovia Civic Club a 50-year member of and former judge advocate of Post 88 of the American Legion and a Communicant of St. James Church in Cazenovia where he was a former member of the Parish Council, Lector and Usher. Above all, he was a beloved husband, father, grandfather and brother. He is pre-deceased by his wife Peggy (2004); his sister Peggy Coughlin (2011) his son, Albert Edward Tait, III, in March.
Surviving are his daughter and son-in-law Anne and Dan Sharkey of Southbury, CT; his son and daughter-in-law Brian and Katie Tait of Cazenovia and his son and loyal caregiver, Thomas C. Tait of Cazenovia; his sister, Molly Cordes of Cazenovia; his grandchildren, Matthew, Sarah, John and Catherine Sharkey, Quinn and Luke Tait; several nieces and nephews.
Mass of Christian burial: 11 a.m. Saturday Sept. 15, celebrated by his nephew, Rev. Edward Hopkins at St. James Church, 6 Green St., Cazenovia, with a rite of committal following in Evergreen Cemetery in Cazenovia. Calling hours: 4 to 7 p.m. Friday, Sept. 14, at the Tait Funeral Home, Inc. 2333 Fenner Road in Cazenovia. Contributions may be made to Hearth, 1640 Washington St, Boston, MA 02118. To send online condolences please visit taitfunearalhome.com.