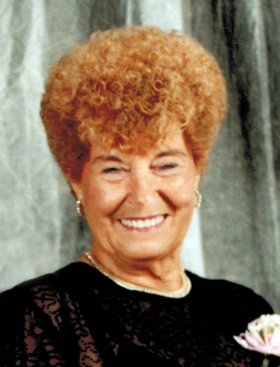 Betty A. Tryon
August 30, 1924 - September 8, 2012
Talented dancer, loving mother, Betty A. Tryon, 88, passed away at home with family by her side on Sept. 8, 2012.
The first born child of the late Earl and Susan Pulaski Tryon, Betty was a devoted mother to her five sons, as well as a loving grandmother, great-grandmother and great-great-grandmother. Born Aug. 30, 1924, Betty grew up in Sandy Creek and later moved to Syracuse spending a few years in Washington, DC and Cleveland, OH.
Betty was a woman of many talents–creative cook, avid gardener and gifted seamstress. Her greatest passion, however, was for dancing, and she had a standout talent for the craft. People would often clear the floor to watch her dance with partners throughout Central New York. Betty will be remembered fondly for her sense of humor, grace and positive outlook on life. She was affectionately known as "Betty the Baker" at Francis House and for several years was a member of Literacy Volunteers of Greater Syracuse. She had many an article published in the opinion section of the Herald American and also had been published in Reader's Digest.
She was predeceased by her long time companion Brig. Gen. (Ret.) Curtis Irwin.
Surviving are her sons, George "Dick" (Sharon Shumway) Ladd of New Haven, Ron Ladd of Liverpool, Ken (Ingrid) Ladd of Liverpool, Mike (Kathy) Ladd of Canastota, Dave (Kathy) Smith of Baldwinsville; two sisters, Barbara (Richard) Perkins of Pulaski and Jean McMorris of Tennessee; a brother, Douglas Tryon of Florida; sixteen grandchildren; 31 great-grandchildren; nine great-great-grandchildren and several nieces and nephews.
Services: 10 a.m. Thursday, Sept. 13 at Fergerson Funeral Home with burial following in North Syracuse Cemetery. Calling hours: 4 to 7 pm Wednesday at the funeral home, 215 S. Main St., North Syracuse. Donations may be made to Hospice of CNY, 990 Seventh North Street, Liverpool 13088 or to Francis House, 108 Michaels Avenue, Syracuse 13208. Memorial messages may be left at FergersonFuneralHome.com.