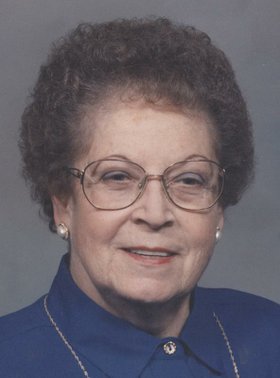 Marian F. Polley
unknown - September 3, 2012
Marian F. Polley, 83, of Memphis, died Monday, Sept. 3, 2012, in the Syracuse Home. Born in Syracuse, Marian lived in the Memphis area since 1948. She was the widow of Wilbur N. Polley who died in 1985.
She was a senior underwriter for the State Insurance Fund before retiring.
Marian was a communicant of St. Patrick's Church in Jordan and a member of the Altar and Rosary Society. She was active with the PEF retirees and the railroad retired employees group. In her earlier years, Marian was Cub Scout Den Mother. She was an avid golfer and a member of the Tuesday Night Golf League at Westvale. She loved gardening as well as cooking and baking for her family.
Surviving are a son Daniel R. Polly of Warners, a daughter Susanne (Richard) Colvin of Baldwinsville, five grandchildren, six great-grandchildren, several nieces and nephews.
Mass of Christian burial: 10 a.m. Friday, Sept. 7, in St. Patrick's Church. The Rite of Committal and burial will be in St. Patrick's Cemetery. Calling hours: 4-7 p.m. Thursday, Sept. 6, at the Bush Funeral Home 120 E. Main St. (Rt. 5) Elbridge. Contributions may be made to St. Patrick's Church Restoration Fund.