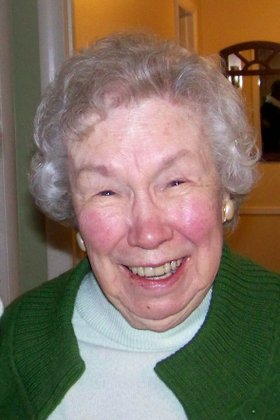 Dorothy H. McMahon
December 31, 1917 - August 30, 2012
Dorothy H. (Sennett) McMahon, 94, of Marcellus, died on Thursday, Aug. 30, 2012, at Francis House in Syracuse, after a brief illness. Born on New Year's Eve in 1917, Dot was raised in Syracuse, one of five children of Clarence and Mary MacDonald Sennett. She loved fashion and had a great sense of style. She worked in some of the finest department stores in Central New York beginning as a young woman at Flahs & Co, the Addis Co., Chappells, and ending her career at the Bon Ton. She made a thousand friends along the way. She was predeceased by her husband, James M. McMahon in 2000. She was a busy mother, grandmother, and great grandmother, active in her church and community throughout her long life.
Dorothy is survived by her eight children, Maureen E. (John) Curtin of Marcellus, NY, Mary Patricia (Richard) Bonner of Fort Worth, TX, James M. (Anna Kline) McMahon of Rochester, NY, Judith Anne (Frank) Selinger of Scituate, MA, Katherine S. (Michael) Lavere of Homer, NY, John P. McMahon of Charlotte, NC, Dorothy McMahon (Steven Fine) of New York, NY, Anne S. (Brian) White of Boston, MA, sixteen grandchildren and nineteen great grandchildren. Other survivors include her sister, Mary Sennett of Syracuse, NY, a great many nieces and nephews as well as several favorite cousins. She was predeceased by her parents, as well as by her brothers, Frank C., Ambrose P., and Richard J. Sennett.
Mass of Christian burial: 10 a.m. Wednesday, Sept. 5, at Most Holy Rosary Catholic Church in Syracuse. Following church services was entombment at St. Mary's Cemetery in DeWitt. Calling hours: 4 to 7 p.m. Tuesday, Sept. 4, at Whelan Bros. & Hulchanski Funeral Home, 5854 Belle Isle Rd., Syracuse, NY 13209. In lieu of flowers, memorials may be made in Dorothy's name to Francis House or to the McMahon/Ryan Advocacy House.