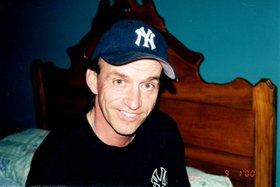 Scott Trexler
unknown - unknown
Scott Michael Trexler, 54, passed away at his home in Plano, TX on Oct. 14, 2012. As the youngest of 12 children, he was born and grew up in Plainville, NY. Scott worked as a cook and brought love to everything he achieved throughout his life. He touched many lives with his passion for helping others, in church and also at Homeword Bound in Texas. He is predeceased by his mother and father, Beatrice and Robert Trexler, and a brother, Robert Trexler, Jr.
He is survived by his wife, Patricia; 3 children, Travis, Justin and Ashley Trexler; 2 stepchildren, Jeff and Sean Akin; 7 grandchildren; sisters, Sandra (John) Crolick, Roberta Greiner, Beverly (William) Kick, Bonnie (Robert) Shanning, Donna (Terry) Kozma, Sue (Don) Kick, Joan (John) Turner; brothers, Bill (Pat) Trexler, Jack Trexler, Jim (mary) Trexler; and several nieces, nephews and cousins.
Memorial service: 11 a.m. Nov. 3 at the Plainville Christian Church. Falardeau Funeral Home, Baldwinsville has charge of local arrangements. In lieu of flowers, donations may be made to the 2nd Chance Baptist Church, 13370 Branch View Lane, Ste 110, Farmers Branch, TX 75234 or the Plainville Christian Church, 752 W. Genesee Rd., Plainville, NY 13137.