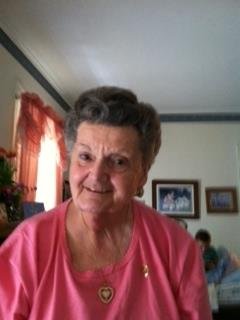 Patricia Y. Minnoe
unknown - October 23, 2012
Patricia Y. Minnoe, 80, of Baldwinsville, died on Tuesday, Oct. 23, 2012, at Journey Home Hospice in Rochester, with her family by her side. She graduated from St. Joseph's School of Nursing and earned her bachelor's degree in Nursing from SUNY Utica. Mrs. Minnoe worked for over 25 years as a registered nurse at St. Joseph's Hospital and retired in 1990 from Benjamin Rush Psychiatric Center where she worked as a Psychiatric RN. After her retirement, she joined the Franciscan Sisters of Syracuse as a nun associate, enjoyed gardening and sewing. She was a communicant at St. Mary's of the Assumption Church for over 45 years volunteering as Eucharistic Minister, RICA Hospitality Team, Homebound, Human Development and Ministry of Praise. She was predeceased by her parents, Paul and Marion Manseau, her stepmother, Agnes Manseau, her husband, Niles Minnoe, son, Chris Minnoe, brother-in-law, Don Minnoe, sister, Marilyn Chow and brother-in-law, Ray Chow.
She is survived by her two children, Cathleen (James) Radford and Cary Minnoe; daughter-in-law, Marjorie Minnoe, seven grandchildren, Jonathan, Joshua and Katie Radford, Stephanie and David Minnoe, Chivon Winter and Amanda Rae Hawkins; a great granddaughter, Emilia Winter; and several nieces and nephews.
Prayer services: 9:30 a.m. Saturday, Oct. 27, at Falardeau Funeral Home, Baldwinsville. Mass of Christian burial: 10 a.m. at St. Mary's of the Assumption Church in Baldwinsville. Burial to follow at St. Mary's Cemetery, Baldwinsville. Calling hours: 4-7 p.m. Friday, Oct. 26, at the funeral home, 93 Downer St. In lieu of flowers, contributions may be made to Journey Home, Inc., 994 Long Pond Road, Rochester, NY 14626.