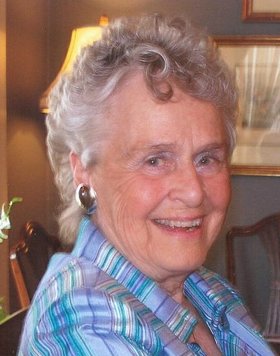 Joan S. King
unknown - October 19, 2012
Joan S. King, 84, known as "Jiggy" to her family and friends, of Manlius, passed away on Friday, Oct. 19, 2012. She was born and raised in Newburgh, N.Y., the daughter of Edith and George Silcock. After attending public schools in Newburgh, she attended Syracuse University and graduated in 1950 with a bachelor's degree in sociology. While in college, she was active in Gamma Phi Beta Sorority, Chapel, Woman's Athletic Association and Executive Council, and volunteered at the Huntington Family Center. Upon graduation, Jiggy worked as a caseworker in the Child Welfare Division of the Newburgh, N.Y Welfare Department.
After her marriage to Russell A. King in 1952 and his duty as a Lt.Jg. with the U.S. Navy in Korea, they returned to Syracuse.
Jiggy was an active community volunteer, serving on the boards of several organizations including the Fayetteville Manlius Home and School Association, The Boy's Club, The Girl's Club, the YWCA and the Junior League of Syracuse. She served on a study Committee that recommended the establishment of the Meals On Wheels program in the Syracuse Community. She also served on a committee that established the Erie Canal Museum Auxiliary to assist in fund raising events.
She was a member of the Gamma Phi Beta Alumni Association and volunteered at the Everson Museum, Syracuse Symphony, American Red Cross and Crouse Irving Hospital. She was a member of The Monday Book Club and the F-M Antique Study groups and their programs and lectures were an inspiration to her. As a member of DeWitt Community Church, she enjoyed serving on The Missions and History Committees.
She enjoyed sports of all kinds, especially downhill skiing and winter sports with her family at Cazenovia Ski Club and Stowe Vermont, and playing tennis with her pals as well. She was a member of the Onondaga Golf and Country Club, where she shared many special moments with both family and friends. Her most favorite activity involved extensive traveling with her family, including the worldwide trips with Russ and each of their ten grandchildren when they became teenagers.
Above all else, Jiggy was a loving wife, mother to her children and their spouses, and grandchildren. Jiggy was loved by everyone who knew her.
She is survived by her beloved husband of 60 years, Russ, her four children and their spouses and ten grandchildren. Jim (Kristin) and grandson John of Manlius, grandson Tom of Bristol, RI; Pete (Kathleen) of Manlius, granddaughter Susan, of Burlington, VT and grandson Alex of Morrisville, VT; John (Gretchen) and granddaughters Lauren and Katherine of Shelburne, VT, and grandson Eric who is serving in the Peace Corps in Mozambique; Nancy (Jason) Bellush and granddaughter Anna of Hendersonville, NC, granddaughter Rebecca of Brooklyn, NY and grandson Andy of Rochester, NY. She is also survived by a sister, Ann S. Thuesen; and a niece and nephew.
In lieu of flowers, contributions may be made in to the DeWitt Community Church, 3600 Erie Blvd. DeWitt, NY 13214 or Meals on Wheels, 300 Burt St., Syracuse, NY 13202. Newell-Fay Manlius Chapelof Schepp Family Funeral Homes has charge of arrangements. For a guestbook, please visit scheppfamily.com.