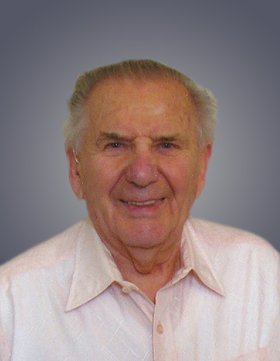 Jan Hamerski
unknown - October 19, 2012
Jan Hamerski, 87, of Fremont, passed away peacefully on Friday, Oct. 19, 2012, at St. Joseph's Hospital, after a brief illness, surrounded by his loving family. Jan was born on February 8, 1925, in Brusy, Poland. He was a veteran of WWII, serving with the First Polish Armored Division headquartered in Scotland, from 1941 to 1945, and he participated in the Normandy campaign. After the war, he lived in Croydon, England for several years, until emigrating to the United States in December 1951. He settled in Syracuse, where he remained for the next 61 years. In 1958, he married the joy and love of his life, Ruth M. Hamerski. Jan and Ruth were the proud parents of Karen and Dr. Michael Hamerski.
He worked his entire career in the automotive field, both in Croydon, and in Syracuse, and retired in January 1994. His devotion to hard work extended from the workplace to his home which he renovated himself several times, creating a joyful space for his family. He was active his entire life with many hobbies and activities. He enjoyed golfing and fishing over the years with his son and grandchildren. With his daughter, he would take long bike rides along the Erie Canal, and taught her to play tennis. He enjoyed traveling and reading, and he and Ruth could be found nearly every morning at the YMCA until his passing. He was a long-time active member of Trinity Lutheran Church, where he ushered for many years.
He is survived by his wife of 54 years, Ruth, daughter Karen (John) Brogan, grandsons Peter, Thomas, and Joseph Brogan, granddaughter, Heather (William) Hamerski Stoudemire, and great grandsons Michael and William Stoudemire. He was predeceased by his son, Dr. Michael R. Hamerski. He has family in Poland and Germany that he maintained contact with through the years. He is also survived by very special friends Alex Suchomski and Ray Moritz, with whom he spoke almost daily.
Contributions may be made to St. Joseph's Hospital Foundation, Francis House, or a charity of choice.
Eaton-Tubbs Fayetteville Chapel of Schepp Family Funeral Homes has charge of arrangements. For a guestbook, please visit scheppfamily.com.