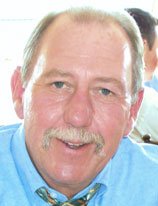 Frederick Lonergan
unknown - October 16, 2012
Frederick J. Lonergan (Jeff), 58, of Baldwinsville, died Tuesday, Oct. 16, 2012 after a courageous battle with cancer. Born in Little Rock, Arkansas, he was the eldest son of, and predeceased by, Frederick J. Lonergan and Mona Swasand Lonergan. He is survived by his loving wife of 28 years, Pamela (Baker) Lonergan, the woman who was the center of his universe. Jeff's life long interests were golfing, boating and putting others before himself. His humor and good nature were contagious. Jeff was an avid Syracuse fan and a devoted and generous member of the Syracuse Adelphi Club. Jeff graduated from St. Mary's High School in Rutherford, N.J., and served in the U.S. Coast Guard from l977 through l982. While living in the Albany area for several years and working in sales, his attributes of honesty and fair treatment resulted in him being recognized multiple times as an exemplary sales representative of the month. He then advanced to the position of sales representative for GoodYear X-ray and relocated to the Syracuse area. In l995, he joined Siemens Medical Solutions as an account executive and was referred to by some as the "John Wayne" of his sales territory. Jeff will be missed by so many. He will be remembered for his support, advice, companionship, and most importantly as a pillar of strength and inspiration to all.
In addition to his spouse, survivors include his siblings Michael Lonergan (MaryBeth) of Plattsburgh, N.Y.; Brian Lonergan (Sharon) of Freehold, N.Y.; and Mary Beth Lonergan of Guilderland, N.Y.; along with 11 nieces and seven nephews. Jeff was often affectionately called Uncle Jeff by many, both family and friends alike.
Services: 10 a.m. – 1 p.m. Friday, Nov. 2, at Falardeau Funeral Home, 93 Downer St., Baldwinsville.
In lieu of flowers, contributions may be made to Greater Baldwinsville Ambulance Corp, Inc. P.O. Box 535, Baldwinsville, NY 13027 and Francis House, 108 Michaels Ave., Syracuse, NY 13208.